QR Codes
Top 10 QR code campaigns of Q2 - Mobile Marketer - Software and technology. By Rimma Kats July 9, 2012 Marketers are constantly debating about whether or not QR codes are beneficial to their marketing efforts.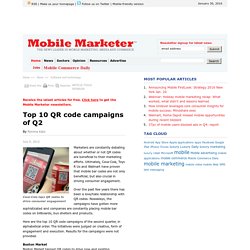 Ultimately, Coca-Cola, Toys R Us and Walmart have proven that mobile bar codes are not only beneficial, but also crucial in driving consumer engagement. Over the past few years there has been a love/hate relationship with QR codes. 9 Unique Ways to Generate Leads With QR Codes. This is a guest blog post written by Jamie Turner, founder and chief content officer of the 60 Second Marketer.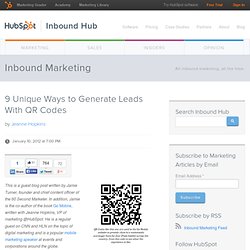 In addition, Jamie is the co-author of the book Go Mobile, written with Jeanne Hopkins, VP of marketing @HubSpot. He is a regular guest on CNN and HLN on the topic of digital marketing and is a popular mobile marketing speaker at events and corporations around the globe. If you're like a lot of people, you may be wondering how to use mobile marketing to generate leads for your business. Use QR Codes so You Don't Get Thrown Away After Tradeshows. If you've attended a tradeshow, you've probably left with a bag packed full of promotional products, business cards, and sales collateral.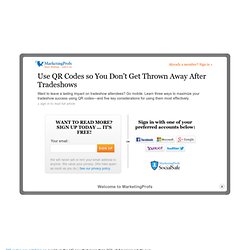 We all have the best intentions when we add something to our swag bags, but the reality of our busy lives sets in the second we walk out of the tradeshow and get into our cars. Materials collected at a tradeshow often get thrown out immediately or discarded after sitting in a corner of our office for months. If your company uses tradeshows as a marketing tactic, QR (quick response) codes can help you avoid the inevitable doom of the tradeshow-bag black hole. QR codes are the square-shaped, (usually) black-and-white barcodes that we've all seen popping up on billboards, in magazines, and in commercials.
When a QR code is scanned by a smartphone, it typically opens an informational Web page or video. ComScore: Mobile QR Code Use on the Rise. Earlier this month, comScore released an study about the growing use of mobile QR and bar code scanning by consumers.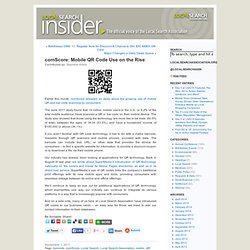 The June 2011 study found that 14 million mobile users in the U.S., or 6.2% of the total mobile audience, have scanned a QR or bar code on their mobile device. The study also showed that those using the technology are more like to be male (60.5% of total), between the ages of 18-34 (53.4%), and have a household income of $100,000 or above (36.1%). QRMobilize. QR Code Generator - create QR Codes online [business card, t-shirt, mug, 2D barcode, generate QR-Code] - goQR.me.
---