Pricing SEO
Janet Meiners wrote a good article Monday on Small Biz Trends: Practices of Top SEO Companies for Small Businesses. It's designed to help small business owners understand the basic/minimum services that an SEO company/consultant should be providing. But what about the cost of small business SEO? What should a small business expect to pay when hiring an SEO consultant? In the comments on that Small Biz Trends article, a man named Jeff says this about the cost of SEO services: "…many companies that offer SEO services charge an arm and a leg, usually monthly (anywhere from $300-$1000/monthly) and many don't provide any kind of guarantee on results."
Small Business SEO: Costs, Expectations & Realities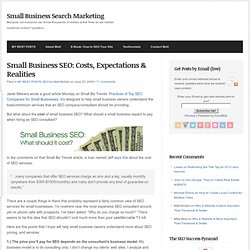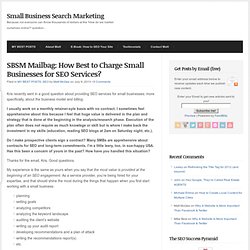 Kris recently sent in a good question about providing SEO services for small businesses; more specifically, about the business model and billing: I usually work on a monthly retainer-syle basis with no contract. I sometimes feel apprehensive about this because I feel that huge value is delivered in the plan and strategy that is done at the beginning in the analysis/research phase. Execution of the plan often does not require as much knowlege or skill but is where I make back the investment in my skills (education, reading SEO blogs at 2am on Saturday night, etc.). Do I make prospective clients sign a contract? Many SMBs are apprehensive about contracts for SEO and long-term commitments.
SBSM Mailbag: How Best to Charge Small Businesses for SEO Services?
Infographic: How Much Does SEO Cost?
How much does SEO cost? How much time do you have to discuss the various models and prices out there! However, a new survey sheds some light on the subject.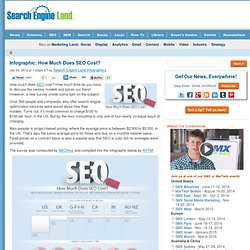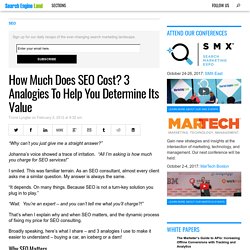 "Why can't you just give me a straight answer?" Johanna's voice showed a trace of irritation. "All I'm asking is how much you charge for SEO services!"
How Much Does SEO Cost? | SEO Pricing (Problems) Explained!
Near the end of December 2011, we ran a survey on this blog asking consultants and agencies of all sizes and geographies to contribute their pricing models and cost structures. I'm pleased to share the results of that survey in the hopes that it will give everyone in the search industry a better idea of the range of fees and the services provided. Obviously, this data is imperfect - SEOmoz is not a professional data surveying firm and our only tool was a basic list of questions on SurveyMonkey. That said, I'd be surprised if a professional surveyor found dramatically different data - there was enough participation to receive a trustworthy sample size and firms provided their personal/contact information (many of which I recognized while digging through the responses, but obviously will not be sharing identities publicly), which means we likely did not receive intentionally manipulative/misleading information.