Local Biz Mktg Opportunities
Presentations | RiseVision - Part 2. We have created 8 template designs at 1920×1080 that you quickly brand with your logo and colors to get started.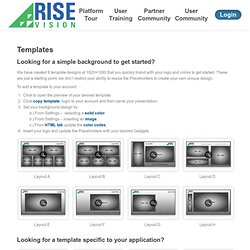 These are just a starting point, we don't restrict your ability to resize the Placeholders to create your own unique design. To add a template to your account: 3 Simple Steps To Get Siri & Her Friends To Talk Up Your Local Business. Like many of you, I've eagerly been testing out Siri, the popular new voice-activated "personal assistant" on Apple's iPhone 4S.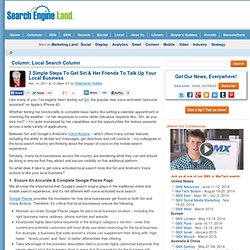 Whether testing her functionality to complete basic tasks like setting a calendar appointment or checking the weather – or her responses to some rather ridiculous requests like, "Siri, do you love me?" – I'm quite impressed by her capabilities and the opportunities the feature presents across a wide variety of applications. Between Siri and Google's Android's Voice Actions – which offers many similar features including the ability to dictate text messages, get directions and call contacts – my colleagues in the local search industry are thinking about the impact of voice on the mobile search experience. Tout brings 'email-as-a-service' to individuals and small businesses. The folks at angel-backed startup Tout know that e-mail has still got a long future ahead of it, so they're trying to improve it by equipping individuals and small businesses with the powerful template-based messaging capabilities big enterprise would pay lots of money to get.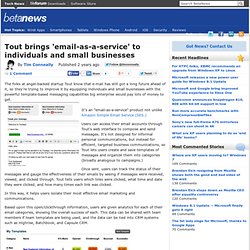 It's an "email-as-a-service" product not unlike Amazon Simple Email Service (SES.) Users can access their email accounts through Tout's web interface to compose and send messages. It's not designed for informal personal communications, but instead for efficient, targeted business communications, so Tout lets users create and save templates of messages and organize them into categories (broadly analogous to campaigns.) Google Maps: No Stone Unturned in Search of Ad Space. Don't Rely On Your Organic Listing.
Do you own and operate a well optimized website that has aged and has a pretty spot up at the top of a search engine results page for numerous targeted keywords?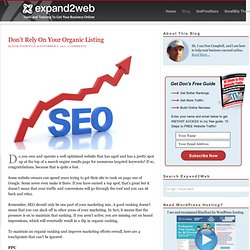 If so, congratulations, because that is quite a feat. Some website owners can spend years trying to get their site to rank on page one of Google. Yellowbook Products - Yellowbook.com Features and Benefits. Find the perfect fit for your marketing needs and budget.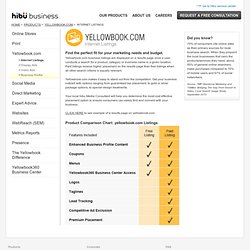 Yellowbook.com business listings are displayed on a results page once a user conducts a search for a product, category or business name in a given location. Paid listings receive higher placement on the results page than free listings when all other search criteria is equally relevant. Yellowbook.com makes it easy to stand out from the competition. Business Listing Packages | Yext PowerListings. 5 great viral marketing campaigns (and what small businesses can learn from them!) 0inShareinShare0 At crowdSPRING we talk a great deal about how we can leverage our limited marketing resources to drive traffic and revenues and build strong community.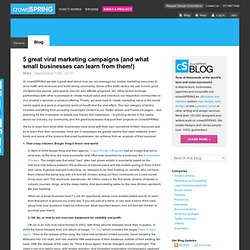 Some of the traffic-tactics we use involve good old fashioned payola: paid search, banner ads, affiliate programs, etc. Strategy - Three New Ways to Market Your Small Business. Many small-business owners have only enough time to approach marketing as a one-time deal, or they view it as a responsibility that can be tended to once in a while.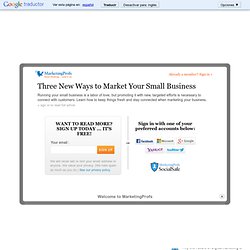 Running your small business is an arduous labor of love, but promoting your company continually and with new, targeted efforts is necessary to connect with new customers and stay top-of-mind with current ones. Whether you're just starting out or have been in business for years, staying on top of new ways to market your company is important so you don't end up with only an ad in the Yellow Pages. And, if you do have an ad in the Yellow Pages, also consider the following three new ways to market your small business. Beta. Gootip - Beta.
---