Facebook Marketing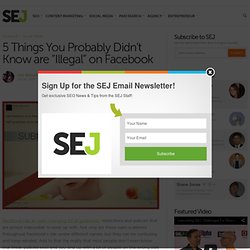 Facebook has an ever-changing list of guidelines , restrictions and policies that are almost impossible to keep up with.
5 Things You Probably Didn't Know are "Illegal" on Facebook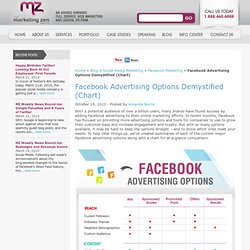 Facebook Advertising Options Demystified (Chart)
October 19, 2012 - Posted by Amanda Norris With a potential audience of over a billion users, many brands have found success by adding Facebook advertising to their online marketing efforts. In recent months, Facebook has focused on providing more advertising options and tools for companies to use to grow their customer base and increase engagement and loyalty.
Apps For Custom Facebook Pages | North Social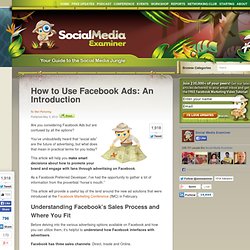 How to Use Facebook Ads: An Introduction
Are you considering Facebook Ads but are confused by all the options? You've undoubtedly heard that "social ads" are the future of advertising, but what does that mean in practical terms for you today? This article will help you make smart decisions about how to promote your brand and engage with fans through advertising on Facebook . As a Facebook Preferred Developer, I've had the opportunity to gather a lot of information from the proverbial "horse's mouth." This article will provide a useful lay of the land around the new ad solutions that were introduced at the Facebook Marketing Conference (fMC) in February.
This article was first posted on Entrepreneur.com. For most business owners, their biggest Facebook challenge is keeping fans consistently engaged.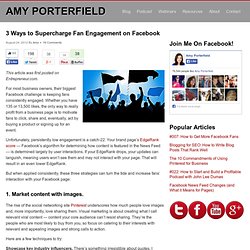 3 Ways to Supercharge Fan Engagement on Facebook
Heyo is 3 powerful marketing tools all in one - you'll never look back... Show Me The HelloBar - a little bar that gets noticed!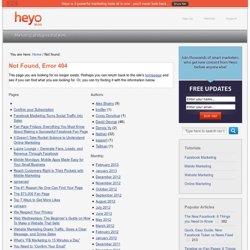 3 Ways Your Retail Store Can Get 3x Foot Traffic Using Facebook | Lujure
8 Step Guide to Using Facebook to Generate Links & Business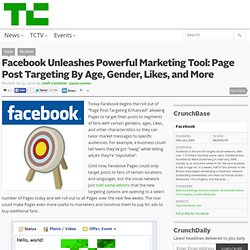 Facebook Unleashes Powerful Marketing Tool: Page Post Targeting By Age, Gender, Likes, and More
Today Facebook begins the roll out of "Page Post Targeting Enhanced" allowing Pages to target their posts to segments of fans with certain genders, ages, Likes, and other characteristics so they can tailor market messages to specific audiences. For example, a business could tell teens they've got "swag" while telling adults they're "reputable". Until now, Facebook Pages could only target posts to fans of certain locations and languages, but the social network just told some admins that the new targeting options are opening to a select number of Pages today and will roll out to all Pages over the next few weeks. The tool could make Pages even more useful to marketers and convince them to pay for ads to buy additional fans. The news comes from a member of a closed Facebook group for social marketers, who wrote that he received the following info from Facebook:
Your Facebook Marketing Focus is Wrong and Here's Why | PostRocket Blog - Facebook Newsfeed Optimization Tool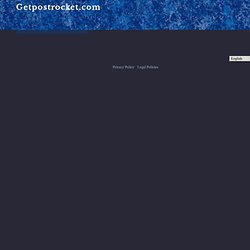 Facebook Marketing is broken at the very core. It's broken because for whatever reason, your focus is wrong . I'd say at least 90% of Facebook Page owners have one of the following as their #1 goal: get more likes, or convert likes into sales. You may have pressure from your boss to get more likes and make more sales. You may be a traditional marketing professional who's been accustomed to measuring ROI of your campaigns .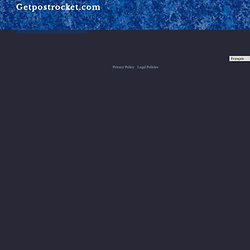 Let's face it. Facebook Insights are an absolute nightmare. There's a ton of valuable data within Insights, but it's often surrounded by useless data. For those of us brave enough to click on the 'Export Data' button (pictured below), it gets even worse. Facebook tosses hundreds of additional metrics at you in a painfully difficult format. So what numbers should you actually be paying attention to?
6 Numbers from Facebook Insights that Actually Matter | PostRocket Blog - Facebook Newsfeed Optimization Tool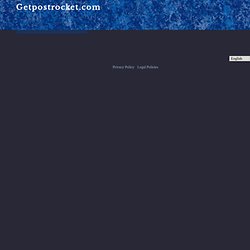 Have you been wondering why your Facebook posts only reach a small percentage of your fans? The answer is EdgeRank, Facebook's Newsfeed filtering algorithm that decides what updates are important to each user and should be shown– as well as those that aren't important and are ignored. We recently posted a crash-course in EdgeRank that you can read here . For Facebook Page marketers, it's important to not only understand EdgeRank, but to actively work to improve it - which is why I've created this list of 7 simple ways to increase your page's EdgeRank:
7 Easy Ways to Increase Your Facebook Page's EdgeRank | PostRocket Blog - Facebook Newsfeed Optimization Tool
Facebook marketing campaigns seem to be going all warm, caring and fluffy recently as brands realize that solving problems and helping those in need can be a very effective marketing tactic. Three of the Facebook campaigns in this list have an altruistic reason behind their campaigns, from donating $500,000 each to 20 schools to raising funds for the "Make A Wish Foundation". The marketing goals for the Facebook pages vary but quite often the simple goal of just increasing their fan count to their Facebook page seems to be top of the list as brands have worked out very quickly that being able to communicate to 1,000′s or even millions of fans via a simple status update is very efficient highly leveraged marketing. Companies have also realized that people's main reason for becoming a fan for the most part is not so charitable, but is about having access to the latest special offers and freebies.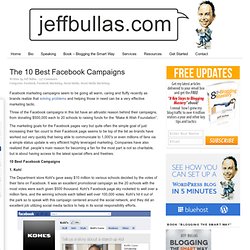 A few select brands on Facebook are currently running tests of a new Facebook product for businesses called "Offers." The most recent Offer, which generated a fair amount of buzz in the past week, was posted by Macy's . Macy's first posted the Offer on Thursday, February 23rd at 7:11am Pacific with an expiration date of February 26th. The Offer was: " Get 25% off your purchase of $100 or more. "
Facebook Launches New Offers Product for Businesses
Marketers Agree Facebook Is Vital, Facebook Ads Not So Much
A few days before the big Facebook IPO back in May, the news broke that General Motors was yanking nearly $10 million worth of paid ads from the network , basically saying that they don't work (that blow was later softened ). Although marketers were talking about the effectiveness of Facebook ads long before GM pulled the plug, that news coupled with the worries about Facebook's long-term strategy of mobile monetization has created a very uneasy culture around advertising on Facebook. Despite all the hubbub, only 4.3% of advertisers say they expect to decrease their Facebook advertising budget over the next year. And over half (56.6%) say they expect to increase it. That's one of the main takeaways from an Ad Age/Citigroup survey of 658 marketers, agency executives, and media executives who refer to themselves as "decision makers" when it comes to social media marketing.
Facebook Paid Status Promotion Platform Is Official
How to Strategically Dominate the Facebook News Feed
Getting someone to click "Like" on your Facebook Page is only the first step toward building a thriving community—because few (if any) of your fans will return to your Page by typing in its URL. Instead, it's up to you to engage them with timely and consistent updates that appear in their News Feeds. But this is exactly where most brands fail. They grow their fan numbers, but engagement is low—which means fewer clicks, countless lost leads and zero marketing momentum.
10 Reasons Your Facebook Page Is Not Taking Off
Why isn't my Facebook Page growing faster? Why aren't people engaging more? I'm gonna say it right off the bat, I believe growing a community or achieving higher levels of engagement with your audience is harder on a Facebook Page than on a blog or Twitter. I usually hear this with clients and in random conversations.
www.marismith.com/facebookwebinar/Facebook_Subscribe_Report-Mari_Smith.pdf
Six Ways To Effectively Promote Events on Facebook – Case Study
Understanding the New Insights: People Talking About This & Engaged Users
Facebook Testing "Offers" Discounts For Ecommerce Sites, Not Just Brick+Mortar
Facebook Posts for Massive Engagement
12 Reasons Why Some Facebook Pages Boom But Most Bust
[Over 2000 Sold] FINALLY! Facebook Fanpage Software + Video Training..A Quick $57+ On Autopilot!!
6 Ways Small Businesses Can Win With Facebook
How Facebook Timeline Might Radically Change the Look of Brand Pages [PICS]
Ad Engine
7 Ways to Get Noticed on Facebook With Facebook News Feed Optimization