Conversion Rate Optimization
Does optimization ever end? How we grew Crazy Egg's revenue by 510%
wp-content/uploads/2012/04/website-optimization-hour-day-chapter1-promo.pdf
As search marketers, your job is to generate traffic. More traffic means more sales. As we become more wise to the math of conversion, we begin to realize that it may make sense to shift some attention away from the unending search for higher click-through rates and toward getting higher conversion rates on our sites. If you have gone to bat for adding some serious conversion optimization to your search campaigns, you know that it isn't an easy sell.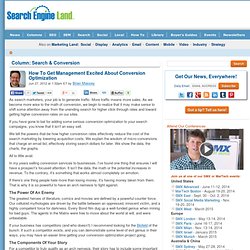 3 Ways to Get Management Excited About Conversion Optimization
Unconventional Opportunities For Conversion Rate Optimization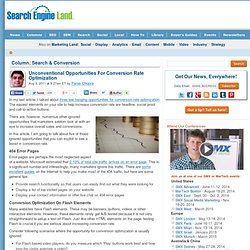 In my last article, I talked about three low hanging opportunities for conversion rate optimization.
Conversion Rate Optimization Tools