Conversion Rate Optimization
Does optimization ever end? How we grew Crazy Egg's revenue by 510% Do you suspect that your conversion rate couldn't be improved upon?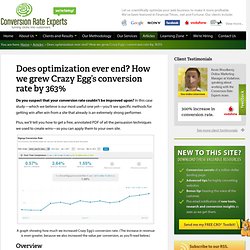 In this case study—which we believe is our most useful one yet—you'll see specific methods for getting win after win from a site that already is an extremely strong performer. Plus, we'll tell you how to get a free, annotated PDF of all the persuasion techniques we used to create wins—so you can apply them to your own site. Wp-content/uploads/2012/04/website-optimization-hour-day-chapter1-promo.pdf. 3 Ways to Get Management Excited About Conversion Optimization. As search marketers, your job is to generate traffic.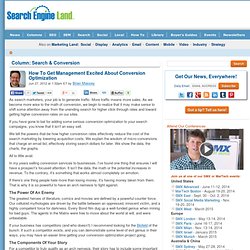 More traffic means more sales. As we become more wise to the math of conversion, we begin to realize that it may make sense to shift some attention away from the unending search for higher click-through rates and toward getting higher conversion rates on our sites. If you have gone to bat for adding some serious conversion optimization to your search campaigns, you know that it isn't an easy sell.
Email marketing
Landing pages. Lead Capture Forms. How to CRO. Unconventional Opportunities For Conversion Rate Optimization. In my last article, I talked about three low hanging opportunities for conversion rate optimization.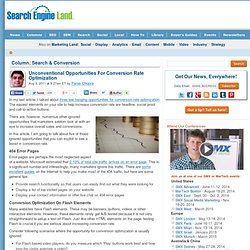 The easiest elements on your site to help increase conversion rate are headline, social proof and call-to-action buttons. There are, however, numerous other ignored opportunities that marketers seldom look at with an eye to increase overall sales and conversions. In this article, I am going to talk about five of those ignored opportunities that you can exploit to see a boost in conversion rate.
---