Blogging Tips and Audits
The Secret Triggers Behind 43 Powerfully Simple Fill-in-the-Blank Blog Post Headline Templates. Rock Your Blog. About Michelle I once wrote 42 blog posts in a single day, and I've mentored more than 5,000 bloggers through leading online blog challenges.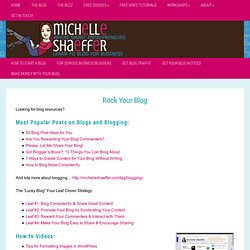 Read More… Connect With Michelle… 7 Tiny Tweaks to Your Blog That Will Make a Massive Difference. As anyone whose ever lost weight, written poetry, painted a picture, or been in a long term relationship will know: little tweaks make a MASSIVE difference.
In fact, little tweaks are so important that the Japanese have made a philosophy out of it. This is called Kaizen, which means small, continuous change. Kaizen is the idea that tiny changes, put together, one after another, can make massive improvements to a business, a person's life, or even a blog. Kaizen is Toyota's secret of success. It can be your secret of success, too. The Beginner's Guide To Content Marketing. Content marketing is a relatively new type of marketing that provides free media-type content to customers in exchange for their attention.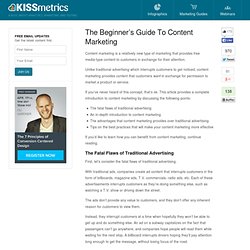 Unlike traditional advertising which interrupts customers to get noticed, content marketing provides content that customers want in exchange for permission to market a product or service. If you've never heard of this concept, that's ok. This article provides a complete introduction to content marketing by discussing the following points: The fatal flaws of traditional advertisingAn in-depth introduction to content marketingThe advantages that content marketing provides over traditional advertisingTips on the best practices that will make your content marketing more effective. 22 Secrets Of Power Bloggers. I was watching Seth Godin who is one of the worlds top bloggers, being interviewed the other day on an online video.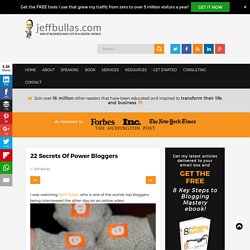 I had never seen him on video before or even seen a photo of him except for his blog photo which is a rather memorable partial image. What really intrigued me was that my first impression (which frankly is still embedded) was that he is the "Woody Allen" of social media both in manner, speech and great insight. In the interview he said that he doesn't participate on Facebook or Twitter as he didn't want to lose his focus and clarity that he brings to his blog which is his primary focus and he then went on to say "Most people are a wandering generality rather than a meaningful specific" which from my research is a quote from Zig Ziglar which he said, indicates that people who lack clarity about their life purpose weaken their effectiveness to a massive degree if they don't get clear and motivated about what they want most out of life. Www.jeffbullas.com/2010/06/02/50-ways-to-optimize-your-blog/
I wrote an article earlier this year on "30 Tips To Make Your Companies Blog Rock" and I had quite a few comments by readers and some added more tips on other keys to making a blog successful.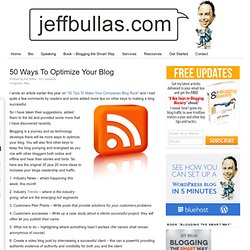 So I have taken their suggestions, added them to the list and provided some more that I have discovered recently. Blogging is a journey and as technology develops there will be more ways to optimize your blog. You will also find other keys to keep the blog pumping and energised as you mix with other bloggers both online and offline and hear their stories and hints. 9 Elements of the Perfect Post.
How to Get Started Blogging. This is the first article of a three part series on blogging, which is a terrific way to promote your small business.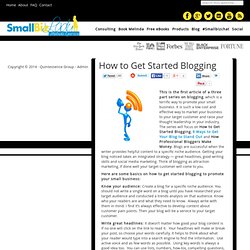 It is such a low cost and effective way to market your business to your target customer and raise your thought leadership in your industry. The series will focus on How to Get Started Blogging, 9 Ways to Get Your Blog to Stand Out and How Professional Bloggers Make Money. Blogs are successful when the writer provides helpful content to a specific niche audience. Getting your blog noticed takes an integrated strategy — great headlines, good writing skills and social media marketing. How to Monetize a Blog. In the first two parts of this series on blogging, I discussed how to get started blogging and 9 ways to get your blog to stand out , and now, part three is about how to go pro as a blogger and build a business.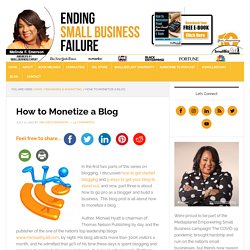 This blog post is all about how to monetize a blog. Author, Michael Hyatt is chairman of Thomas Nelson Publishing by day and the publisher of the one of the nation's top leadership blogs www.michaelhyatt.com , by night. His blog attracts more than 300K visitors a month, and he admitted that 90% of his time these days is spent blogging and speaking to promote his personal brand. In June, Hyatt released, , which debuted on the New York Times Bestseller List. He says it is a practitioner's guide to blogging and social media marketing. 6 Powerful Guest Post Tactics that No One's Talking About.
[INFOGRAPHIC] Blogging: 3 Secrets To An A-List Blog. Every blogger wants their blog to break through the ever-growing number of blogs to be top in their category.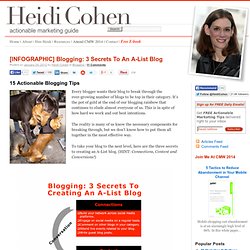 It's the pot of gold at the end of our blogging rainbow that continues to elude almost everyone of us. This is in spite of how hard we work and out best intentions. The reality is many of us know the necessary components for breaking through, but we don't know how to put them all together in the most effective way. To take your blog to the next level, here are the three secrets to creating an A-List blog. 10 Ways to Increase Blog Readership. Last week while attending BlogWorld I noticed a recurring discussion pertaining to increasing blog readership.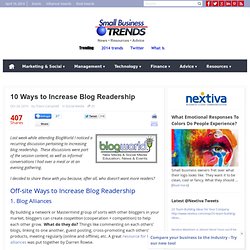 These discussions were part of the session content, as well as informal conversations I had over a meal or at an evening gathering. I decided to share these with you because, after all, who doesn't want more readers? Off-site Ways to Increase Blog Readership. 31 Blog Design Mistakes (& How to Fix Them) Does your blog design make you look dumb?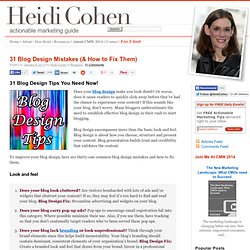 Or worse, does it cause readers to quickly click away before they've had the chance to experience your content? If this sounds like your blog, don't worry. Many bloggers underestimate the need to establish effective blog design in their rush to start blogging. The Sales Lion by Marcus Sheridan: Marketing, Small Business, Blogging, and Life Success Principles Delivered with Passion! 8 Things Your Blog Readers Want More Than Good Content. How to increase your blog following. Just show a little chest is all. I just got this on my Facebook wall: "Hi Kathy, you are my resident expert…I am trying to increase the audience of my new blog, Stepford Husband, do you have any tips or suggestions?"
David's post came with this picture on his blog: Now tell me, if you saw that wouldn't you follow it? How to Write Killer Blog Content Without Spending Countless Hours Staring At Your Computer. This post is the second in the 6-part series "How to Create Bite-Sized Content Your Readers Will Devour and Share." Click here to see the first post, "6 Steps to Instantly Connect With Your Blog Readers."
In the last post, I showed you how to engage readers by building instant rapport–a quick, friendly sense of connectedness. Once you successfully strike that personal chord with your readers, you've hooked them. But have you hooked them for good? 6 Steps to Instantly Connect With Your Blog Readers. This post is the first in the 6-part series " How to Create Bite-Sized Content Your Readers Will Devour and Share."
Click here to read more posts in this series. Are you having trouble getting more people to read your blog, even after spending hours writing and promoting your posts? I have good news: you're not crazy, and you're definitely not alone. You're just not giving your audience what they want—yet. In our social media-obsessed world, there's no such thing as a captive audience. The Ultimate Guide to Increasing Conversion Rates On Blogs. If you're looking to improve your blog conversion rates, look no further… Here are 7 conversion site reviews that will show you how to increase blog conversion rates without messing around with any of that "tech" stuff.
There's more than 3 hours of conversion consulting on these 7 videos, and if I were you, I'd make time to watch all 7 of them. You've likely seen at least one of them, but have you seen them all? Keep reading to find out. How to Optimize Your Blog for More Subscribers [Blog Review] | Denise Wakeman - Online Visibility Expert. Recently the tables were turned on me. I was contacted by Derek Halpern, a super successful Internet marketer and publisher of the excellent SocialTriggers.com blog. He wanted to know if I'd be interested in having him evaluate my blog for "missed opportunities" especially in the area of lead generation and how to get more subscribers.
---