Kathylong
Kathy Long
Web designer, Local search specialist, internet marketer, and lover of WCS dancing http://www.facebook.com/katandmouseo So come by, say hi, and leave me your questions. I'll help if I can. I also love to dance, specifically International ballroom and WCS, but more than that, I'm an extremely passionate person who finds most everything exciting and interesting and loves to squeeze every bit of juice out of it. I'm also a very spiritual person but believe spirituality is a condition of the heart and not an affiliation. I belong to nothing and follow no one in my spiritual quest because the truth is within me as it is within you.
Google Nails MyHammer.de for Spammy SEO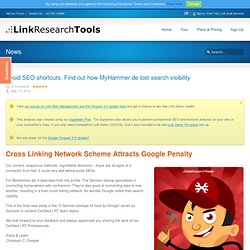 Cut corners, suspicious methods, regrettable decisions – these are all signs of a contractor from hell. It could very well define some SEOs. For MyHammer.de, it describes their link profile.
moneymaking on the internet
Promotion, campaign tools
The Google+ Ghost Town talk is finally beginning to come to a screeching halt thanks to a new report by Global Web Index. The numbers gathered now show that Google+ has surpassed Twitter in active users and is second only to Facebook. From now on, whenever somebody even hints at Google+ being a failure all you can do is tilt your head slightly and look at them funny. This quick graphic I created only shows the numbers for Facebook, Google+, and Twitter, although Technically YouTube was considered #3 and Twitter came in at #4 by the numbers. Although it is good to note that Twitter is actually the fastest growing of them all, with 40% growth in the last quarter. As advertisers, businesses and brands continue to see a decline in the effectiveness of their Facebook efforts, Google+ continues to gain ground with it's innovative features.
Google+ Is Now The Number Two Social Network In The World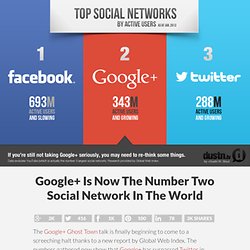 As Google Plus Daily first reported, Google+ has launched a new Page manager dashboard with a new look, added functionality and some very basic stats about the Pages you manage. The old dashboard was spartan and borderline useless. It only displayed the different Pages you managed with a blue "Switch to this page" button for each — the same button you'd see if you skipped the dashboard and went directly to the Page itself The new dashboard still shows all your Pages and links to "Switch to this page," but also includes: basic stats like how many followers each page has and when the last post was madethe red notifications icon for quick access to Page activitya link to manage the Page Managerslinks to the Page settings and profile Here's a screenshot of my Pages dashboard: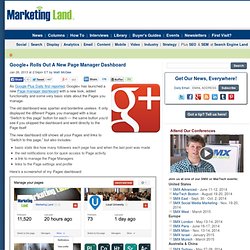 Google+ Rolls Out A New Page Manager Dashboard
Website Worksheet
It says something about Google's local products that consultants and bloggers like Mike Blumenthal and Linda Buquet are known specifically for their skill in keeping track of the name changes, the shifts in direction, the feature rollouts and rollbacks, and the exception cases and frustrations that have become a fact of life for local businesses trying to use the search giant's services. The much-publicized shift from Google Places to Google+ Local that took place back in May (and still has not finished rolling out) is just one milestone in a complicated history. Remember Google Hotpot, to take just one example of a once-promising service which fell by the wayside before many had even heard of it? The extended Google+ Local rollout has been more troublesome than most. Usually when Google has experimented with social services in the past, such as Google Buzz and Google Wave, it has done so in a tangential way that does not threaten core functionality.
Google's Local Offerings Have Gotten Too Complicated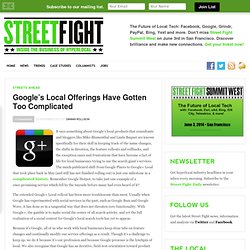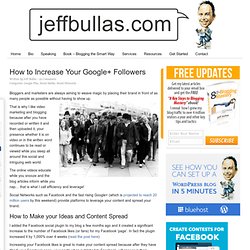 Bloggers and marketers are always aiming to weave magic by placing their brand in front of as many people as possible without having to show up. That is why I like video marketing and blogging because after you have recorded or written it and then uploaded it, your presence whether it is on video or in the written word continues to be read or viewed while you sleep all around this social and intriguing web world. The online videos educate while you snooze and the blog articles inform while you nap… that is what I call efficiency and leverage! Social Networks such as Facebook and the fast rising Google+ (which is projected to reach 20 million users by this weekend) provide platforms to leverage your content and spread your brand.
Social Media Tips for Small Business
You've recently setup the obligatory Facebook, Twitter, LinkedIn, and Google+ profile pages for your small business and you're asking yourself, "Now what?" If you're new to the game and wondering what to do next, below are 5 social media tips to send you and your small business off in the right direction to achieve social media success: 1) Develop a Strategy I've seen many companies make the mistake of approaching social media without a strategy. First, decide which social networks make most sense for your company.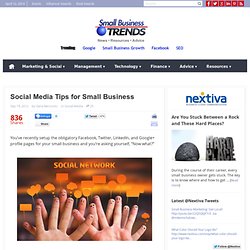 Client-LaundryCareExpress
Internet marketing, SEO, and other news sites to follow
Internet Marketing Services
Great small business websites
location-based services (foursquare, gowalla, etc.)
All Things Internet Marketing
Conversion Rate Optimization
Presenation and Class Material
Kat & Mouse SEO and Internet Marketing Classes
Internet Marketing Thought Leaders' Blogs
Thought Leaders to Follow