iPad Classroom
Parenting in the Digital Age. How to make iPad kids film better. It's about time I add another post about my actual teaching practice and how my kids use iPads.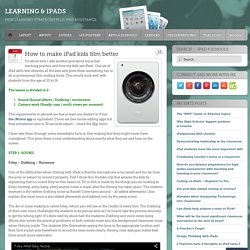 One set of iPad skills that interests all the kids and gives them something fun to do is professional film making tricks. This would work well with students from the age of 10 to 16. The lesson is divided in 2 : Sound (Sound effects / Dubbing / voiceovers)Camera work (Steady-cam / multi views per moment) 50 Of The Best Resources For iPads In Education. 50 Of The Best Resources On iPads In Education by Tom Vander Ark first appeared on gettingsmart.com For more thinking and resources on mobile learning and iPad classroom integration, see also TeachThought's 10 Most Popular Posts on iPad Integration and 23 Ways To Use The iPad In A Project-Based Learning Environment. 50 Of The Best Resources On iPads In Education 12 Sources & Tools for iPad.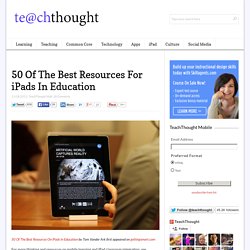 Science apps
The 20+ Apps To Know About In 2013. Education got a lot more mobile in 2012 as in-school iPad initiatives , the iPhone 5 launch and online learning providers in general made classroom experiences more interesting—and don't expect to see teaching head back to desktop PC's in 2013.
In fact, as MOOCs and hybrid programs continue to evolve, mobile should have an ever more significant role to play. Looking back at some of 2012′s most significant app launches and updates, Education Dive assembled a list of a few of the best apps on iOS and Android devices that we think educators should know about for 2013. Some of these are already out in the wild, and some are still twinkles in their developers' eyes. All of 23 of them stand to be important, however, in the new year: 50 Apps In 50 Minutes LACUE. 30hands Mobile is a fun and innovative storytelling app that allows students, teachers and anyone with creativity to easily create stories or presentations based on photos, images or slides using a smart phone or tablet.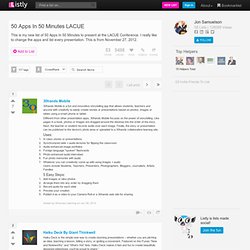 Different from other presentation apps, 30hands Mobile focuses on the power of storytelling. Like pages in a book, photos or images are dragged around the desktop into the order of the story. Next, the teacher or student records audio over each image. Rover Flash Browser for iPad. Mobile Apps | News iSwiFTER Releases Rover Flash Browser for iPad In an effort to enable Flash-based content for iPads, iSWiFTER Learn has developed a new browser app, called Rover, specifically designed for educators and students that offers both pre-selected learning content and filtered web browsing.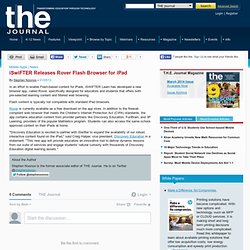 Flash content is typically not compatible with standard iPad browsers. Rover is currently available as a free download on the app store. In addition to the firewall-compliant web browser that meets the Children's Internet Protection Act (CIPA) standards, the app contains education content from provider partners like Discovery Education, FunBrain, and 3P Learning, providers of the popular Mathletics program.
The iPad and Maths – Are we there yet? Pt 1. My last two posts on iPads and good teaching have focused on teaching and learning writing.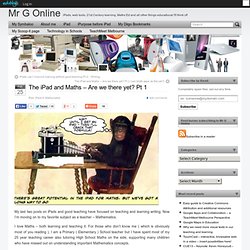 Now I'm moving on to my favorite subject as a teacher – Mathematics. I love Maths – both learning and teaching it. Math-tastic iVocabulary. After taking a look at the 8th Math Benchmark Exam and perusing the student data, a few things became abundantly clear: Much of the test involved vocabulary AND successful problem-solving was based on the knowledge of that vocabulary and the ability to assimilate the given terms and information in order to draw an object, produce a table, or complete a graph.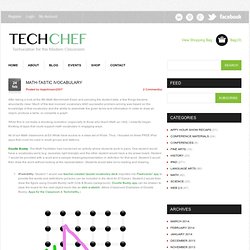 While this is not really a shocking revelation (especially to those who teach Math as I did), I instantly began thinking of apps that could support math vocabulary in engaging ways. All of our Math classrooms at Ed White have access to a class set of iPods. Thus, I focused on three FREE iPod apps that could be used in small groups and stations. Kid Safe Browsers for iPad and iPhone. By Natalie Parents know that it's not safe to allow children unrestricted access to the internet.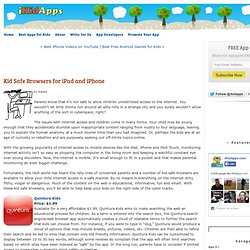 You wouldn't let little Jimmy run around all willy-nilly in a strange city and you surely wouldn't allow anything of the sort in cyberspace, right? Introducing School-Wide Digital Citizenship Practices with iPads. An elementary school in our district recently got 30 iPads and asked for some advice implementing them with students and teachers.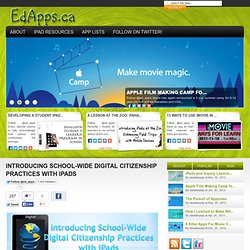 In addition to suggesting some starter apps, I recommended that we have conversations with kids around the appropriate use of these devices. While almost every child has used an iPad, iPod Touch, or iPhone, the exciting learning opportunities these mobile, Internet-connected, media creation devices create also open the door to new challenges. 10 Most Stylish iPad RSS Readers. This is a guest post by Vadim – one of the curators of the Stylish iPad apps tumblog.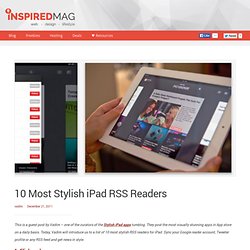 They post the most visually stunning apps in App store on a daily basis. Today, Vadim will introduce us to a list of 10 most stylish RSS readers for iPad.
iPad 2 as a serious writing machine (how-to) I knew when I bought the iPad 2 a while back that it would provide a number of uses for me, but I quickly discovered it fills more important roles in my work than I believed it would. One of those, a key for me, is as a serious system to use for a lot of the writing I do in my work. I write 3,000 words most days for all of the projects I have going on, and the iPad 2 has stepped up to handle a lot of the task quite nicely. I wrote about using the iPad 2 for writing a while back, and contantly receive questions about how I use it in this role.
The best way to deal with those questions is to detail how I use the tablet as a writing machine on a daily basis. iPads and Tablets in Education. Take the iPad Challenge - Stone Soup. How to Turn Your Tablet into an Awesome, Productivity-Boosting Second Screen. AirPlay Mirroring to a Mac (no Apple TV required) Update: Reflection has been renamed Reflector. It is available for Macintosh and for Windows PCs. I am so excited for a new Mac app called Reflection! It shows my iPad's screen live on my computer screen wirelessly! Projecting Your iPad Wirelessly - Without an Apple TV. Important update: May 6, 2012 - Mirror to your Windows PC as well Shortly after the release of Relection a second mirroring solution called AirPlay was released - available at Reflection and Airplay both allow mirroring of an iOS device to a Mac.
Many site members had asked about a solution that would allow mirroring to a Windows PC. In its latest update, Airplay has now added a version that will allow mirroring to a PC as well. When iOS 5 was released many of us were thrilled with its ability to allow projection (mirroring) of your iPad to a projector using Airplay and Apple TV. iPad Document Camera Stand. Justand's education price is $89 and volume pricing is available. Justin tells me much of the price is for raw materials. The stand is made from large thick sheet of aluminum and has a 40 pound torque hinge. Of course, if you don't already have an iPad, the Justand document camera solution can be over $600. A third generation iPad will make a better document camera than an iPad 2 because the newer iPad has a much better camera. Create your own iPad keyboard for less than $10! iPad Keyboard NOT an Issue For Students. One Keyboard For Your Computer Or iPhone.
Dictate Thoughts and Ideas to Your iPad with PaperPort Notes. Quick List: iPad Resources For The Classroom. iPod Touch & iPad Resources. The Top 20 iPhone And iPad Apps of 2011. Ipad Apps for Teachers | Educational Ipad Apps. Teachers Guide on The Use of iPad in education. Internet Catalogue. My Pinterest iPad boards. Mobile Learning. Langwitches Blog. On Sarah's iPad. Appcessories. Buying Guide: iPad cases. 14 iPad cases for your child with special needs. How to Clean Your iPad Screen - A One Minute Video Lesson. iPad Cart Management - Downloading and Syncing with Apple Configurator - HCSMobile.
Creative APP-titude: iPad Multimedia Tools for Creativitity. Could Doceri be the IWB killer? iPad Multimedia Tools.
iPad AND iPod Resources and Lessons. iPad Resources - Paul's E-Learning Resources. 20 Essential iPad Websites. 8 Free Resources on The Use of iPad in Education. Best interactive iPad books of 2011 for kids of all ages - iPhone app recommendations - Lisa Caplan.
Load Up Your iPad with a Massive Library of Over 38,000 Free eBooks. 6 interactive book apps to get your kids excited about reading. Reading on the iPad for the Little Ones. Teaching Large Classes with an iPad » IPAD Activities Examples. iPad Apps. Learning and Teaching with iPads. Teaching and Learning: Using iPads in the Classroom. Teaching Kids with iPads – Part 1 of 5 | Elementary School Tech Ideas. iPads in the Classroom. Sample Lessons - iPad in Education. iPad Lessons. A Day in the Life of Elementary Flat Stanley.
iPad classroom examples. iPads in the Classroom. Journey with an iPad. How iPads have already made our school better (and most people don't even have one yet) iPads in a Junior Classroom. Using iPads in the Primary Grades. Great apps for teaching and classroom management. iPad Resources. Teach with your ipad. Integrating Technology in Education. How to Design a Beautiful iPad Lesson:
Katie Lately: iPad Lesson Plans. Using Show Me to Create Lessons on iPads - Guest Post. 8 Burning Questions About iPads in Class (Answered!) iBuild iPad Lessons: TCEA 2012. WallaceHighSchool's Channel. Only 1 iPad in the Classroom? iPad As....use to address specific goals.
Educreations For Assessment. iPads Making assessment meaningful. Lesson ideas | iPad Ideas. 68 Interesting Ways to use an iPad in the Classroom. App Learning Tasks By Brad Wilson www.21innovate.com. Ncsa-ipads - Handouts. The iPad as RTI Intervention Toolkit. iPad Apps for Kids with LD « Smart Kids With LD.
Apps for Literacy Support. Using iPads With Mixed-Ability Students, Teachers Must 'Give Up Some Control'
---
edtechdavid Jun 23 2014

Killer ipad collection here. Thanks!
---