Fascilitation - Food
Get flash to fully experience Pearltrees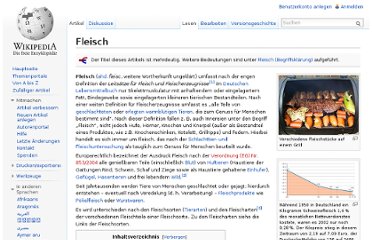 Verschiedene Fleischstücke auf einem Grill Während 1950 in Deutschland ein Kilogramm Schweinefleisch 1,6 % des monatlichen Nettoverdienstes kostete, waren es 2002 nur noch 0,28 %. Der Kilopreis stieg in diesem Zeitraum von 2,19 auf 7,09 Euro, der Durchschnittslohn von 136 auf 2480 Euro. Der Fleischkonsum stieg weltweit zwischen 1979 und 1999 von 29,5 kg auf 36,4 kg pro Kopf und Jahr, in den Industrieländern von 78,5 kg auf 88,2 kg. Fleisch ( ahd. fleisc , weitere Wortherkunft ungeklärt) umfasst nach der engen Definition der Leitsätze für Fleisch und Fleischerzeugnisse [1] im Deutschen Lebensmittelbuch nur Skelettmuskulatur mit anhaftendem oder eingelagertem Fett, Bindegewebe sowie eingelagerten kleineren tierischen Bestandteilen. Nach einer weiten Definition für Fleischerzeugnisse umfasst es "alle Teile von geschlachteten oder erlegten warmblütigen Tieren , die zum Genuss für Menschen bestimmt sind".
Verbraucher geben einen immer kleineren Teil ihres Einkommens für Nahrungsmittel aus Der Anteil der Ausgaben für Nahrungsmittel an den gesamten Konsumausgaben nimmt seit Jahren ab. Im Jahr 2002 gaben die privaten Haushalte in Deutschland nur noch 12,1 Prozent ihrer Konsumausgaben für Nahrungsmittel aus. Auf alkoholische Getränke und Tabakwaren entfielen weitere 4,0 Prozent. Der Grund für den Rückgang des Anteils der Nahrungsmittelausgaben liegt in den Einkommenssteigerungen und in dem vergleichsweise geringen Anstieg der Nahrungsmittelpreise. Der höhere Lebensstandard kommt besonders in zunehmenden Ausgaben für Freizeitaktivitäten und Wohnen zum Ausdruck.
Früher waren Ertragssteigerungen und die Rationalisierung der Produktionsabläufe zentrale Herausforderungen der Landwirtschaft. Doch heute wissen wir: Mit der industrialisierten Landwirtschaft sind viele Probleme für Mensch, Tier und Umwelt entstanden. Aber die Misere hat ein Gutes: Sie fordert ein radikales Umdenken. Greenpeace setzt sich für eine moderne, naturnahe Landwirtschaft ein, die sich an den natürlichen Kreisläufen ausrichtet und Lebensmittel ohne Gentechnik und Schadstoffe erzeugt.
(Washington, D.C., October 23, 2008) As food prices soar and the need to feed more people with fewer resources becomes increasingly challenging, new International Food Information Council (IFIC) research shows more and more people are thinking about the concept of sustainable food production and its role in feeding the world. According to IFIC's 2008 Food Biotechnology survey, awareness of sustainable food production jumped 11 percent from 2007 to 2008 (from 30 to 41 percent). Consumers rated "growing more food to help feed the growing global population" as the most important factor for growing crops in a sustainable manner. "Clearly, global food issues are on consumer's minds," said IFIC Senior Vice President, Danielle Schor.