Personnalités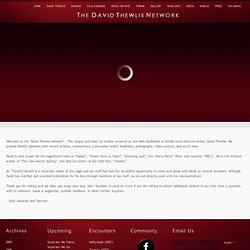 Welcome to the 'David Thewlis Network' – The largest and most up-to-date resource on the Web dedicated to British actor/director/writer, David Thewlis. We provide David's admirers with recent articles, communities, a discussion board, headlines, photographs, video content, and much more. David is well known for his magnificent roles in "Naked", "Seven Years in Tibet", "Divorcing Jack", the 'Harry Potter' films, and recently "RED 2″. He is the brilliant author of "The Late Hector Kipling", and director/writer of the 2003 film, "Cheeky".
David Thewlis Online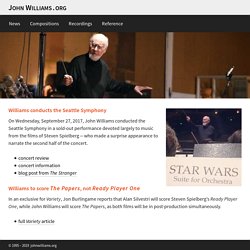 This August, John Williams will lead two performances with Yo-Yo-Ma and the Chicago Symphony, in a program that will include selections from Williams' score from Memoirs of a Geisha. The performances will be recorded for future CD release by Sony/BMG Masterworks. This April, Williams will lead a special benefit concert with the Detroit Symphony.
The John Williams Web Pages
le site fran ais sur Steven Spielberg C'est avec tristesse que nous avons appris la disparition de l'acteur Michael Clarke Duncan, décédé ce Lundi 03 Septembre, suite à une attaque cardiaque. Il avait 54 ans. Grand par la taille (1m96), il est dit de Michael Clarke Duncan qu'il l'était aussi de coeur, un coeur qui l'a malheureusement trahi une première fois au mois de juillet dernier.
Colin Firth