Sysadmin
HOWTO: Secure Firefox and IM with PuTTY
Bad block HOWTO for smartmontools
Handling bad blocks is a difficult problem as it often involves decisions about losing information. Modern storage devices tend to handle the simple cases automatically, for example by writing a disk sector that was read with difficulty to another area on the media. Even though such a remapping can be done by a disk drive transparently, there is still a lingering worry about media deterioration and the disk running out of spare sectors to remap. Can smartmontools help?
GnuPG est un outil pour communiquer de manière sûre. Ce chapitre permet de couvrir l'ensemble des fonctionnalités importantes de GnuPG afin de pouvoir démarrer rapidement.
Le manuel de GNU Privacy Guard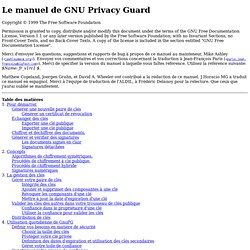 Git et Redmine pour les adminsys
Git pour tous
Niveau : Résumé : cd && git init ; cd /etc && git init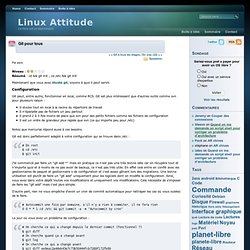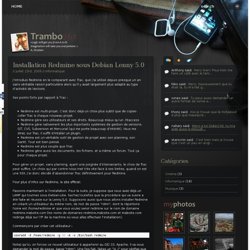 Install Redmine Lenny
// juillet 23rd, 2009 // Informatique J'introduis Redmine en le comparant avec Trac, que j'ai utilisé depuis presque un an sans véritable raison particulière alors qu'il y avait largement plus adapté au type d'activité de Vectoris. Ses points forts par rapport à Trac :
Author: Stephan Jau Revision: v1.0 Last Change: November 30 2008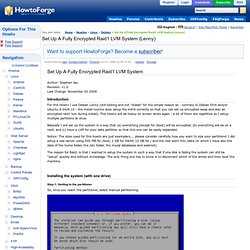 Set Up A Fully Encrypted Raid1 LVM System (Lenny
VIA PadLock support for Linux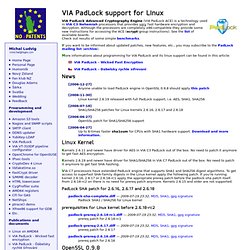 VIA PadLock Advanced Cryptography Engine (VIA PadLock ACE) is a technology used in VIA C3 Nehemiah processors that provides very fast hardware encryption and decryption.