The Sights
Rockefeller Center & Vicinity Travel Planner -- New York Magazine's Visitor's Guide
Advertising Why go? The Valhalla of the shopping world: On Fifth Avenue, titans like Gucci, Tiffany's, and Saks stand alongside mere mortals (Gap, J.Crew). Art dealers bid high and buy big at Christie's, while laymen can get a glimpse of the goods at MoMA.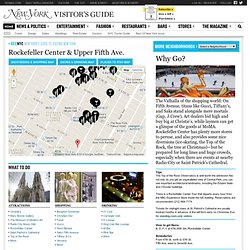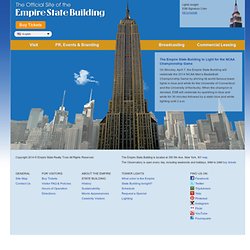 The Empire State Building to Light for the NCAA Championship Game On Monday, April 7, the Empire State Building will celebrate the 2014 NCAA Men's Basketball Championship Game by shining its world-famous tower lights in blue and white for the University of Connecticut and the University of Kentucky. When the champion is decided, ESB will celebrate by sparkling in blue and white for 30 minutes followed by a static blue and white lighting until 2 a.m.
Home - Empire State Building
Grand Central Terminal
The Chrysler Building is an Art Deco skyscraper in New York City, located on the east side of Manhattan at the intersection of 42nd Street and Lexington Avenue. Standing at 319 m (1,047 ft) high,[1] it was briefly the world's tallest building before it was surpassed by the Empire State Building in 1931. However, the Chrysler Building remains the world's tallest brick building.[2][3] After the destruction of the World Trade Center, it was again the second tallest building in New York City until December 2007, when the spire was raised on the 365.8 m (1,200 ft) Bank of America building, pushing the Chrysler Building into third position.
  Chrysler Building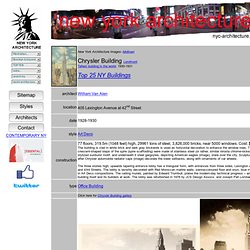 From 1910 to 1940, the Angel Island Immigration Station in San Francisco Bay processed approximately 1 million Asian immigrants entering into the US, leading to it sometimes being referred to as "The Ellis Island of the West". Due to the restrictions of the Chinese Exclusion Act of 1882, many immigrants spent years on the island, waiting for entry. Access to the island is by private boat or public ferry from San Francisco, Tiburon or Vallejo. Ferry services are reduced during the winter.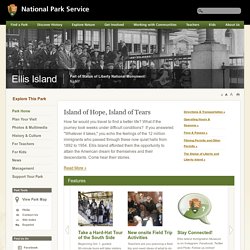 Ellis Island National Monument - Ellis Island Part of Statue of Liberty National Monument