Recipes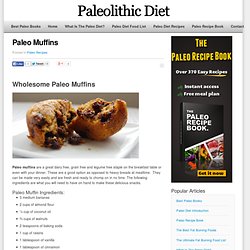 Paleo muffins are a great dairy free, grain free and legume free staple on the breakfast table or even with your dinner. These are a good option as opposed to heavy breads at mealtime. They can be made very easily and are fresh and ready to chomp on in no time. The following ingredients are what you will need to have on hand to make these delicious snacks.
Try Our Free Easy To Prepare Paleo Muffins
www.nutriglow.com > Your Search Results
Low Carb, Gluten/Grain-Free, Dairy-Free Pancakes
We get a lot of B.S. for labeling things like what we've got pictured above as 'paleo'. All I can say is…I don't want to type this lonnnnnng title out every single flippin' time we have a recipe that's grain/gluten free, dairy free and low carb. It's just easier to type the word 'paleo.' It's all encompassing–you know what we mean when we type it. Did they use almond flour in paleolithic times? No.
Mudslide Fudge Cookies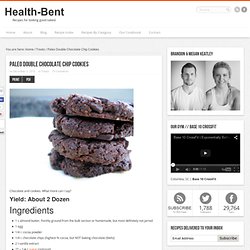 Chocolate and cookies. What more can I say? Yield: About 2 Dozen
Paleo Double Chocolate Chip Cookies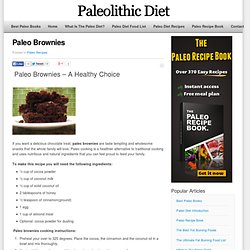 If you want a delicious chocolate treat, paleo brownies are taste tempting and wholesome snacks that the whole family will love. Paleo cooking is a healthier alternative to traditional cooking and uses nutritious and natural ingredients that you can feel proud to feed your family. To make this recipe you will need the following ingredients: ½ cup of cocoa powder½ cup of coconut milk½ cup of solid coconut oil2 tablespoons of honey½ teaspoon of cinnamon(ground)1 egg1 cup of almond mealOptional: cocoa powder for dusting Paleo brownies cooking instructions:
Paleo Brownies - A Healthy Snack Choice
OMG! My FAVORITE paleo recipe book is on sale! Check it out here! Everyone loves cookies and paleo cookies not only taste wonderful, they are very good for you as well!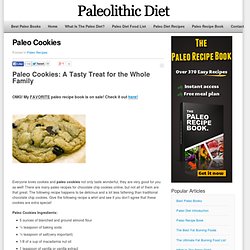 Paleo Cookies That Are Soooo Easy To Make!
Blackberry Banana Muffins
Spicy seed mix recipe
Spiced apple crisps recipe
Fruit, oat & seed bars recipe
www.phunkyfoods.co.uk/docs/microsoft_word_-_snacky_stuff_-_cereal_bar.pdf
tgipaleo
How To: Make Ghee | The Caveman Eats
I looooove Spanish rice (or we can get fancy and call it arroz con pollo), and this dish is the shiiiiiiit. I have a really awesome recipe given to me when I was in high school Spanish class, but sadly, it is not paleo approved. This is my interpretation of that recipe with a little additions. The original recipe calls for saffron, but the price was always intimidating, so I compromised with the Saffron flavored rice. Since that is not an option, I decided to splurge on the real deal.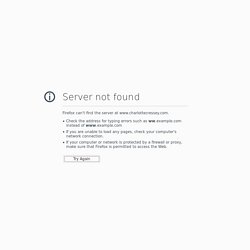 Cauliflower Spanish Rice & Chicken - Earth Energy Yoga | Earth Energy Yoga
Cauliflower Rice
My favorite munchie… » Stir It Up!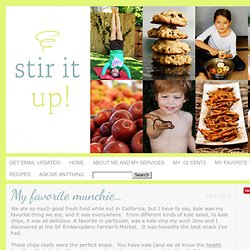 We ate so much good fresh food while out in California, but I have to say, kale was my favorite thing we ate, and it was everywhere. From different kinds of kale salad, to kale chips, it was all delicious. A favorite in particular, was a kale chip my aunt Jane and I discovered at the SF Embarcadero Farmer's Market. It was honestly the best snack I've had. These chips really were the perfect snack. You have kale (and we all know the health benefits of kale), plus it's raw (so you keep the nutrients), and, lastly, all of the ingredients are so good for you!
Creamed Spinach « leetsstreet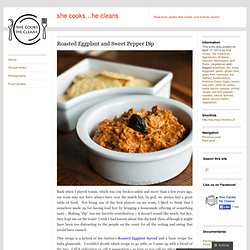 Back when I played tennis, which was one broken ankle and more than a few years ago, my team may not have always have won the match but, by god, we always had a great table of food. Not being one of the best players on my team, I liked to think that I somehow made up for having lead feet by bringing a homemade offering of something tasty . Making "dip" was my favorite contribution – it doesn't sound like much, but hey, they kept me on the team! I wish I had known about this dip back then, although it might have been too distracting to the people on the court for all the oohing and awing that would have ensued.
Roasted Eggplant and Sweet Pepper Dip « she cooks…he cleans
Garlic-Jalapeno Meatballs & Spaghetti (Squash) | tgipaleo
Homemade Apple Crisps recipe
Braised Pork and Fennel Meatballs
Whole30 - chowstalker
Pork Breakfast Sausage
Braised Pork and Fennel Meatballs
I Breathe...I'm Hungry...: Scotch Eggs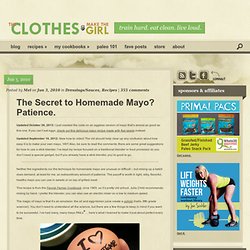 Jun 3, 2010 Posted by Mel on Jun 3, 2010 in Dressings/Sauces, Recipes | 355 comments The Secret to Homemade Mayo? Patience.
The Secret to Homemade Mayo? Patience.
Chocolate Chip Cookies - The Food Lovers Kitchen
Chocolate Chip Cookies prep time10 minutes cook time15 minutes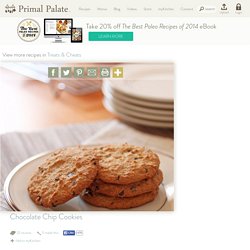 This soup is lovely in winter — warm, spicy and filled with nourishing vegetables. The original recipe from The America's Test Kitchen Family Cookbook contains only chicken and mushrooms. While delicious, it doesn't have enough substance for me.
Thai Coconut Chicken Soup
Food - Recipes : Easy chocolate cake