Architecture
Get flash to fully experience Pearltrees
He lives in a trailer? ehhhhhh…. WHOA <——– To keep updated with my blog, take a minute and like me on Facebook! With the great response to my pirate ship bedroom blog, I searched the internet for an even more amazing bedroom and I found this guy's trailer. You might be wondering, "A trailer?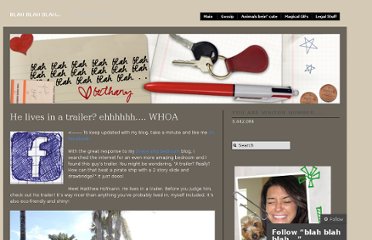 UPDATE: Treehotel are now offering their Mirrorcube treehouse as a turnkey solution available to the public Don't get me wrong, cities are great. Hell, I currently live in London and before my days are over want to spend a serious amount more time in New York, LA, Tokyo, Paris, Sydney and more, but when you need to really get away, it should be to the Treehotel , not the Waldorf. An eco-based design hotel concept, each "room" is wonderfully individual with stunning design and even better views. With the plan to build 24 new treehouses over 5 years, a handful are already in place, and miles from civilisation offering the perfect, isolated getaway, just a touch south of the Arctic Circle.
A Chair for Clingy Lovers If you've ever had someone sit in your lap, you know that 15 minutes is about the max your legs can handle. It's really not fair.
Do you live a stressful life, have high blood pressure and insomnia? Keeping an aquarium may be a good therapy for you! Studies going back as far as the late 80's have shown that watching those beautiful fish going about their daily business can make you feel calm, reducing stress levels and your blood pressure. Although researchers have shown that the greater reduction in blood pressure occurred when there were fish in the tank, vs pleasingly decorated, but fishless, tanks – having a cool aquarium can at least make your friends jealous! [ 1 2 3 ] 1.