MakeSene
Make Sense/Hold Up Introduction. Are you a gangster? | Imperial Entepreneurs. As I was walking up towards the exit from SAF lecture theatre I saw two people approach me who asked that exact question.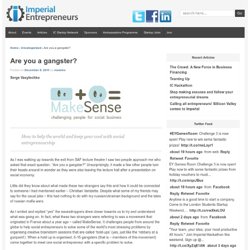 "Are you a gangster?" Unsurprisingly, it made a few other people turn their heads around in wonder as they were also leaving the lecture hall after a presentation on social economy. Little did they know about what made these two strangers say this and how it could be connected to someone I had mentioned earlier – Christian Vanizette. Despite what some of my friends may say for the usual joke – this had nothing to do with my russian/ukrainian background and the tales of russian mafia wars. Will you Make Sense? Please share by clicking the Tweet button below!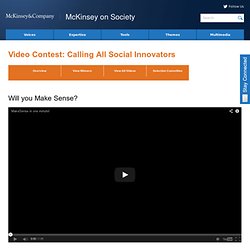 MakeSense is an open project which challenges people for social business. We help social entrepreneurs solve their challenges by connecting them with people who want to take up the challenges and we facilitate the process. We do this online and offline with creative workshops called hold-ups. For the last 9 months we have organised close to 100 hold-ups animated by the members of MakeSense, called Gangsters. MakeSense. MakeSense.
---