Funding
by Maria Popova A heartening transaction of literary pleasure.
Maurice Sendak's Little-Known and Lovely Posters Celebrating Books and the Joy of Reading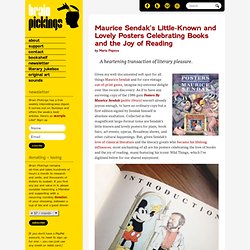 Animals of Southern Africa on Vimeo
phdcomics : What PHD fans had to say about
Laughing Our Way to a Better World:Sindre Olav Edland-Gryt at TEDxBarcelonaChange
Speakers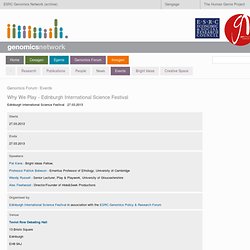 Genomics Policy and Research Forum - Public events - Why We Play - Edinburgh International Science Festival - Public engagement and science studies - ESRC
How to Prototype a Game in Under 7 Days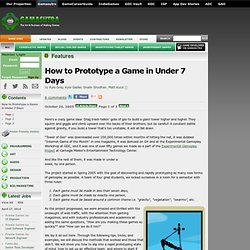 Here's a crazy game idea: Drag trash-talkin' gobs of goo to build a giant tower higher and higher. They squirm and giggle and climb upward over the backs of their brothers, but be careful! A constant battle against gravity, if you build a tower that's too unstable, it will all fall down. "Tower of Goo" was downloaded over 100,000 times within months of hitting the net, it was dubbed "Internet Game of the Month" in one magazine, it was demoed on G4 and at the Experimental Gameplay Workshop at GDC, and it was one of over fifty games we made as a part of the Experimental Gameplay Project at Carnegie Mellon's Entertainment Technology Center. And like the rest of them, it was made in under a week, by one person. The project started in Spring 2005 with the goal of discovering and rapidly prototyping as many new forms of gameplay as possible.
In October, and before an audience of 800 Chicago Ideas Week attendees, Norton announced, "My name is Edward, and I'm a philanthropy addict."
Ed Norton's Crowdrise Brings Fundraising (And Fun) To The Masses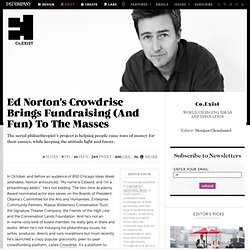 Viewers are not the customer of the TV networks—advertisers are.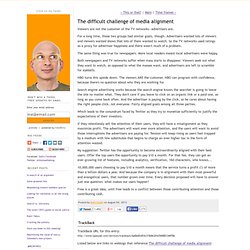 The difficult challenge of media alignment
Checklist for EU innovation and research funding under and : The European Research Council (ERC) manages the FP7 strand for funding "bottom-up", or investigator-driven, "frontier research" projects in any scientific field including social sciences and humanities.
Practical Guide to EU funding opportunities for Research and Innovation : Checklist
9-year-old's DIY cardboard arcade gets flashmobbed
Foundups.TV: FOUNDUPS® Pitch - Enjoy. Visit us on Foundups.org
Peer-to-Peer Finance: A Flight to Simplicity
Home > Ideas > Innovations 25 Comments By Chris Cook February 25, 2009 Internet activist John Gilmore famously said, "The Internet interprets censorship as damage and routes around it." A key event of the Internet age was the invention of Napster, the direct online music-sharing program that helped erode the business model of the global music industry.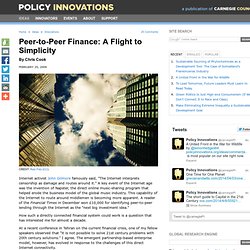 The Coming Capital Convergence
True Believers As attendees entered last week's SoCap conference in an old Army warehouse on the San Francisco waterfront, they filed past a large graphic projected on a screen depicting the full spectrum of socially motivated financial capital, from socially responsible investment to charitable giving. At the center was impact investing — the financing of for-profit ventures and initiatives that explicitly address major social challenges — that is the focus of SoCap, now in its 4th year. The prominence of a still-tiny category — total impact investments represent an estimated $50 billion, an afterthought in Wall Street terms — testified to the faith of many SoCap participants that powerful forces are driving the growth of impact investing and pushing it from the margins of the investment world to the core. The creator of the infographic, Brian Walsh, director of Liquidnet for Good, had dubbed the presentation "The Coming Capital Convergence," adding to the messianic feel.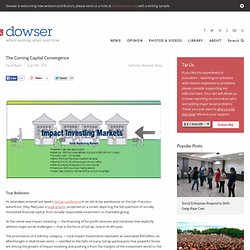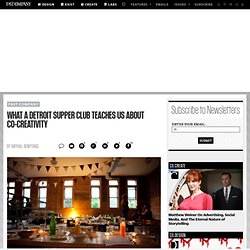 What A Detroit Supper Club Teaches Us About Co-Creativity
A social movement is underway in downtown Detroit. Each month, 100 or so individuals pay $5 for admission to a loft, where they eat a dinner of organic soup (and other foods) prepared by volunteers. Diners share ideas and connections, hear presentations from artists who are working on projects aimed at improving the city, and then vote on which project will receive proceeds from the evening's dinner. Detroit SOUP organizers call the gathering "a democratic experiment in micro-funding," but it's much more than that: It's an example of the power of co-creativity, and it represents the way forward for organizations that want to remain relevant and reach consumers in an authentic way. In recent years, crowdsourcing has become a trendy tactic for soliciting input and engaging consumers, but in reality this approach is nothing more than an open call for submissions.
CrowdfundingTaxonomy