Alcohol
In my bar - Select (The Webtender) Select the ingredients you have in your bar from this rather large list of ingredients.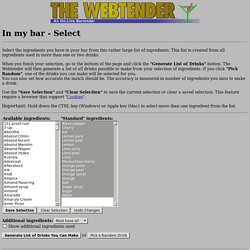 This list is created from all ingredients used in more than one or two drinks. When you finish your selection, go to the bottom of the page and click the "Generate List of Drinks" button. The Webtender will then generate a list of all drinks possible to make from your selection of ingredients. Extratasty - Get your booze on! - Drink of the day is "Peach Trees" by sbruning81 | 04/22/11.
The Webtender: Drinking Games. Have fun with The Webtender's collection of drinking games, but be extremely careful if you play any these games, especially the ones with high buzz factors.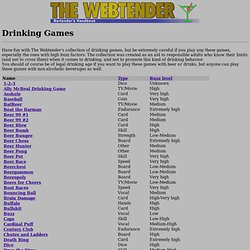 The collection was created as an aid to responsible adults who know their limits (and not to cross them) when it comes to drinking, and not to promote this kind of drinking behavior. You should of course be of legal drinking age if you want to play these games with beer or drinks, but anyone can play these games with non-alcoholic beverages as well. For more fun, visit the Web Site Index and go to one of the sites listed there. You should also take a look at 'The Complete Book of Beer Drinking Games'.
---