Crafts
Stencils
Polices à télécharger. Easy original artworks. Ok these days I can feel myself growing up, and as such i look at the houses my friends have bought or are renting, with their IKEA furniture and mass produced (but pretty) artwork and thought to myself, "isn't that swell, maybe when I have a house then I should get some".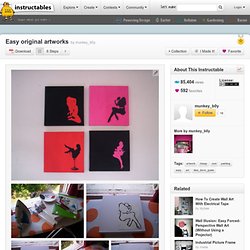 Being not only a g33k but also poor and stingey as hell, I figured I could make something to hang on my walls that would look good, be original, and cost me a little a possible. Brief:
Design
Instructables - Make, How To, and DIY. Clipart ETC Site Map.
---