Mobile UX
Developing a Designer's Sense of Touch. By Jared M.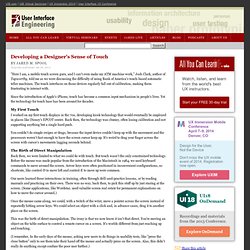 Spool Originally published: Jan 04, 2012 "Here I am, a mobile touch screen guru, and I can't even make my ATM machine work," Josh Clark, author of Tapworthy, told me as we were discussing the difficulty of using Bank of America's touch-based automatic teller machines. The touch interfaces on those devices regularly fall out of calibration, making them frustrating to interact with. Mobile Design: Content and the Great Web-based vs. Native Debate. By Adam Churchill Originally published: Jan 10, 2012 This article is an excerpt from an interview that Adam Churchill had with Josh Clark.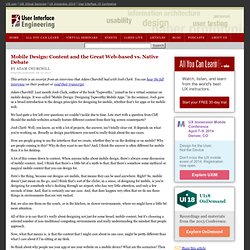 You can hear the full interview on their podcast or read their transcript. Mobile Design Pattern Gallery's collections on Flickr. Josh Clark – Discoverability in Designing for Touch. Podcast: Play in new window | Download (Duration: 39:14 — 20.6MB) [ Transcript Available ] While the traditional "mouse and cursor" interfaces are still in use, many of us are becoming familiar with touch-based interactions.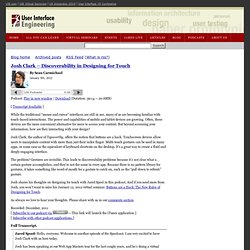 The power and capabilities of mobile and tablet devices are growing. Often, these devices are the more convenient alternative for users to access your content.