Konferencje
Formalne wprowadzenie e-nauczania do polskich szkół | Blog o elearningu i nowoczesnej edukacji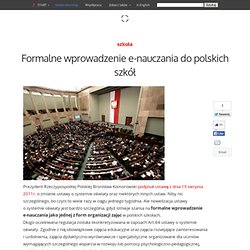 Prezydent Rzeczypospolitej Polskiej Bronisław Komorowski podpisał ustawę z dnia 19 sierpnia 2011r . o zmianie ustawy o systemie oświaty oraz niektórych innych ustaw. Niby nic szczególnego, bo czyni to wiele razy w ciągu jednego tygodnia. Ale nowelizacja ustawy o systemie oświaty jest bardzo szczególna, gdyż istnieje szansa na formalne wprowadzenie e-nauczania jako jednej z form organizacji zajęć w polskich szkołach. Długo oczekiwana regulacja została skonkretyzowana w zapisach Art.64 ustawy o systemie oświaty. Zgodnie z nią obowiązkowe zajęcia edukacyjne oraz zajęcia rozwijające zainteresowania i uzdolnienia, zajęcia dydaktyczno-wyrównawcze i specjalistyczne organizowane dla uczniów wymagających szczególnego wsparcia w rozwoju lub pomocy psychologiczno-pedagogicznej, a także zajęcia prowadzone w placówkach oraz kwalifikacyjne kursy zawodowe, z wyjątkiem zajęć praktycznych i laboratoryjnych, mogą być prowadzone także z wykorzystaniem metod i technik kształcenia na odległość .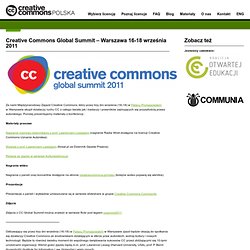 Creative Commons Global Summit – Warszawa 16-18 września 2011
Za nami Międzynarodowy Zajazd Creative Commons, który przez trzy dni września (16-18) w Pałacu Prymasowskim w Warszawie skupił działaczy ruchu CC z całego świata jak i badaczy i prawników zajmujących się przyszłością prawa autorskiego. Poniżej prezentujemy materiały z konferencji. Materiały prasowe
Konferencja e-learning Trends 2011
Home: e-Learning Baltics
Ogólnopolska konferencja "E-learning wyzwaniem dla bibliotek"
Integrating Technology 4 Active Lifelong Learning Toronto, Canada Integrating Technology for Active Lifelong Learning (IT4ALL) is a network of educators that provides free and low-cost professional development courses on how to integrate web technologies into full and blended online learning (BOL) courses and workshops using Moodle and WizIQ. The network provides courses on Moodle for Teachers, Moodle for Administrators, Sloodle for Moodle, Academic Writing, APA style, English Grammar, Learn English Online (LEO), Teaching Online, WizIQ Live Class, WebQuests, Teaching English to Speakers of Other Languages (TESOL), ESOL, Integrating Technology into the Classroom, Blogging, Teaching Online Business, Web 2.0 tools, Math, English, Spanish and other subjects. The staff at IT4ALL are volunteers, who are passionate about instruction and learning and making a difference in the world of online education. The network was founded by Dr.
Moodlemoot Virtual Conference (MMVC11)