Kasiko
Entorno gráfico en Java. Trail: Creating a GUI With JFC/Swing (The Java™ Tutorials) Also known as The Swing Tutorial This trail tells you how to create graphical user interfaces (GUIs) for applications and applets, using the Swing components.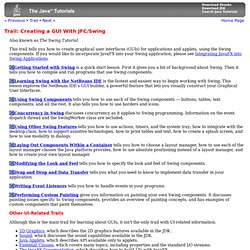 If you would like to incorporate JavaFX into your Swing application, please see Integrating JavaFX into Swing Applications. Getting Started with Swing is a quick start lesson. [código] Conexiones Cliente-Servidor mediante sockets en Java « Linux, Java y programación. Java: Convertir un Date en un String formato dd/MM/aaaa - Escapando del Interbloqueo.
Pequeña pijadita para no tener totalmente la sección de programación del blog.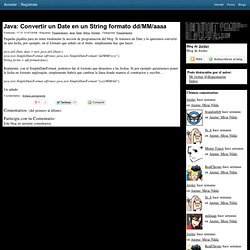 Si tenemos un Date y lo queremos convertir en una fecha, por ejemplo, en el formato que señalo en el título, simplemente hay que hacer: java.util.Date date = new java.util.Date(); java.text.SimpleDateFormat sdf=new java.text.SimpleDateFormat("dd/MM/yyyy");String fecha = sdf.format(date); Realmente, con el SimpleDateFormat, podemos dar el formato que deseemos a las fechas. Free Address Book Script ( PHP + MySQL )
Ver 1.18 ( Security patch applied ) This is a free Address Book PHP script with a MySQL database.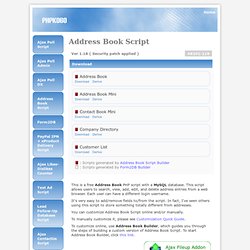 This script allows users to search, view, add, edit, and delete address entries from a web browser. Each user can have a different login username. It's very easy to add/remove fields to/from the script. In fact, I've seen others using this script to store something totally different from addresses. 40+ Invaluable PHP Tutorials and Resources. 43 Ways to Optimize your PHP Code. Java bookmarks. PHP/MySQL.
Pearltrees videos
Help. Foros - Java - RE:Agregar Imagen al JPanel (Danilo Juvinao) - La Web del Programador. Import java.awt.Graphics; import java.awt.Graphics2D; import java.awt.Image; import javax.swing.Icon; import javax.swing.ImageIcon; import javax.swing.JPanel; /** * * @author Edwin Bismark Reyes Rodríguez */ public class JEImagePanel extends JPanel{ private Image image = null;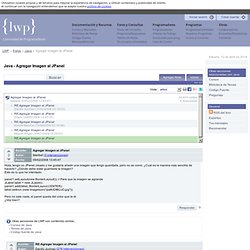 ---