Social Media & Business
What Social Media Campaign Model? | Social Media Certificate. A thought experiment for this fine holiday weekend: What models for Social Media Campaigns are needed?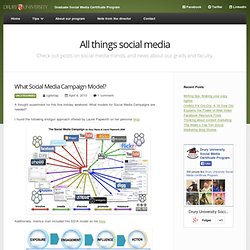 I found the following shotgun approach offered by Laurel Papworth on her personal blog: Additionally, metrics man included this EEIA model on his blog: While Laurel views the success of general social media campaigns across a spectrum of behaviors, metrics man's model appears to focus on design through response as a process testable in unilinear fashion or in segmented fashion. Business Models for Virtual Currency and Virtual Goods.
What is the business model for use of virtual currency and virtual goods in social networks?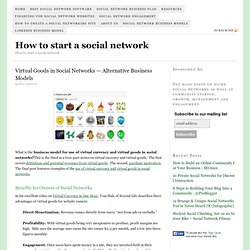 This is the third in a four-part series on virtual currency and virtual goods. The first covers definitions and potential revenues from virtual goods. The second, purchase motivation. 25 Facts Every CEO Must Know About Social Media in 2011 | Tampa Web Design Social Media Agency. Framework: The Social Media ROI Pyramid.
Often, our industry can appear complicated, and yearns for simplicity.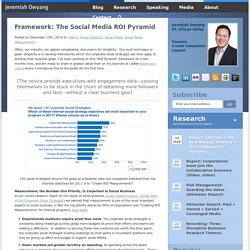 One such technique to glean simplicity is to develop frameworks which the corporate social strategist can then apply to achieve their business goals. I've been working on this "ROI Pyramid" framework for a few months now, and am ready to share in greater detail than on my keynote at LeWeb (slides and video) where I introduced this to the public for the first time. [The novice provide executives with engagement data --causing themselves to be stuck in the churn of obtaining more followers and fans --without a clear business goal] 140 social strategists around the globe at enterprise class size companies indicated their top internal objectives for 2011 is to "Create ROI Measurements"
How To Start A Social Network — Business models, revenues, engagement.
---