Harmonica
Bluesharp - De Mondharmonica Winkel
I Received My First Harmonica as a Gift. What Now?
Gindick Blues Harmonica Jam Camp--3 Beginners, Band and Jon
What Key Harmonica? (Lesson For Beginners)
Shape of My Heart
10 Easy Lessons Learn To Play Blues Harmonica Preview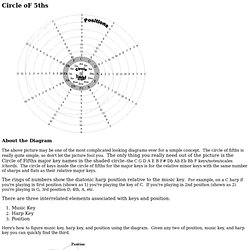 The Harp Reference: Circle Of Fifths
About the Diagram
Beginners' Guide To Playing The Harmonica
What image comes to mind when you think of the harmonica? Maybe you picture a scene from an old movie with a hobo or convict slumped against a wall playing a sad, lonely tune or you see a blues musician on stage giving it all he's got to produce the most incredible riffs. Either way, you're hooked on the sound. The harmonica (aka harp) is a simple instrument capable of producing a wide variety of sounds and it fits in your pocket so you can take it anywhere.