China specific
MUST KNOW: Top 8 Chinese Social Networks & Eccomerce « Mailman Group : A social media and innovation agency
It's now 2011 so we've short listed the TOP 8 Chinese social networks, ecommerce and search sites you must use (or at least consider) when creating your Chinese social media strategy.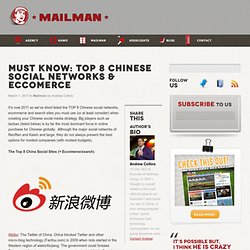 by Swati on May 3rd, 2011
Social Media Users in China more active than those in the U.S.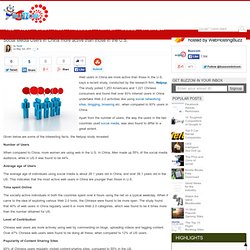 The leading social networking site in China, renren.com, started out as a blatant Facebook clone - but it now has tens of millions of users. Despite obvious similarities to Facebook, there is one significant difference from the U.S. in how Renren and other Chinese SNS are used. The bread and butter of these sites is social games using virtual items. Indeed, Farmville originated in China! In this first post of a series, we outline the most popular social network sites in China.
China's Top 3 Social Network Sites
Avenir technologies Pvt Limited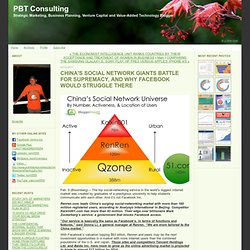 Feb. 9 (Bloomberg) -- The top social-networking service in the world's biggest Internet market was created by graduates of a prestigious university to help students communicate with each other.
CHINA'S SOCIAL NETWORK GIANTS BATTLE FOR SUPREMACY, AND WHY FACEBOOK WOULD STRUGGLE THERE
China SNS sites « Mailman Group : A social media and innovation agency
China Social Networks: Cool Girls to Hipsters
Facebook holds sway as the default social network in many parts of the world across all Internet demographics.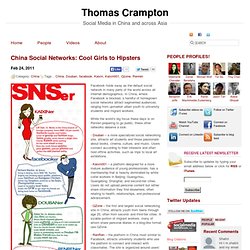 Fastest growing nation on Facebook? China!
By SMBWorld Asia Editors | Jun 17, 2011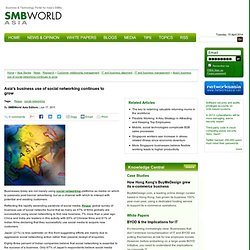 Asia's business use of social networking continues to grow
What Social Media Companies Need to Know about China
In the West, the Internet started with users in business, academia and government, mostly fulfilling utilitarian needs. In contrast, Internet usage in China stemmed from a consumer phenomenon, focused on entertainment and communications.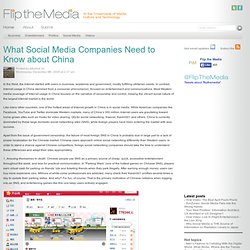 China Internet Users More Comfortable with Companies who Microblog
Research from Fleishman-Hillard found that while internet users in China overwhelmingly felt more comfortable with companies that microblog, those in North America and the UK were largely unmoved. China Internet users also show very positive attitude toward companies monitoring microblogs: Edison Research found that while 87% of US consumers had heard of Twitter, only 7% used it.
Greater China Internet Usage Led by Web Portals as Social Networking Remains Smaller Segment of the Market
In April 2010, CNNIC released their report on Chinese rural Internet development in 2009. For the most part, it's a comparison of urban and rural internet usage in China.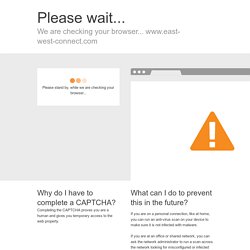 China's Digital Divide - Differences in Urban and Rural Chinese Internet Users | East-West-Connect.com
Intensief internetgebruik: karakteristiek van Chinese maatschappij?
China social networking sites statistics 2009 (updated)