Social Media Marketing
November 30th, 2010 Many moons ago, I evangelised the need for companies to move from a world of Interruption to Engagement. That resulted in Tomi Ahonen and I co-authoring the book Communities Dominate Brands: business and marketing challenges for the 21st Century.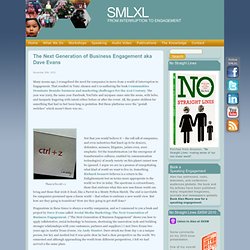 The Next Generation of Business Engagement aka Dave Evans | SMLXL - Engagement Marketing and Communication principles from Alan Moore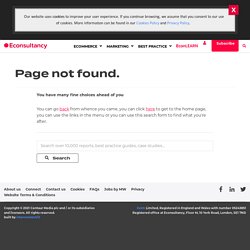 in Share 0 in Share We interviewed Mark about Nokia's approach to social media, internal and external, as well as its recent 'marathon PR failure' ... We came late to social media, though we had been involved in some ways from the word go, through features such as the life blog on some of our phones.
Q&A: Mark Squires, director of social media at Nokia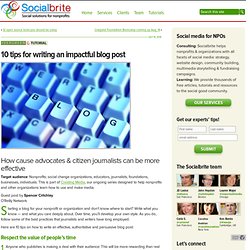 10 tips for writing an impactful blog post | Socialbrite
How cause advocates & citizen journalists can be more effective Target audience: Nonprofits, social change organizations, educators, journalists, foundations, businesses, individuals. This is part of Creating Media, our ongoing series designed to help nonprofits and other organizations learn how to use and make media. Guest post by Spencer Critchley O'Reilly Network Starting a blog for your nonprofit or organization and don't know where to start?
Podcast Episode: DishyMix: Alan Moore on Renegotiating Power Relationships in the Globally Networked Society (Success Secrets from Famous Media and Internet Business Executives
Transcript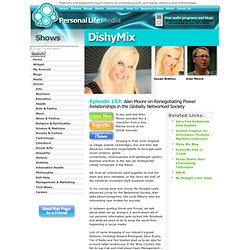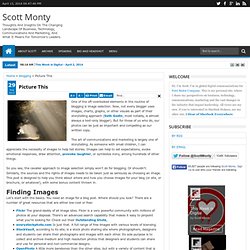 One of the oft-overlooked elements in the routine of blogging is image selection. Now, not every blogger uses images, charts, graphs, or other visuals as part of their storytelling approach (Seth Godin, most notably, is almost always a text-only blogger). But for those of us who do, our photos can be just as important and compelling as our written copy.
Picture This
No Straight Lines - Why No Straight Lines | SMLXL - Engagement Marketing and Communication principles from Alan Moore
Fortune Global 100 Social Media Study - The Burson-Marsteller Bl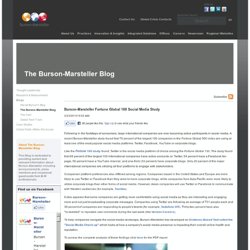 Following in the footsteps of consumers, large international companies are now becoming active participants in social media. A recent Burson-Marsteller study found that 79 percent of the largest 100 companies in the Global 500 index are using at least one of the most popular social media platforms: Twitter, Facebook, YouTube or corporate blogs. Like the 100 study found, Twitter is the social media platform of choice among the Global 100. The study found that 65 percent of the largest 100 international companies have active accounts on Twitter, 54 percent have a Facebook fan page, 50 percent have a YouTube channel, and one-third (33 percent) have corporate blogs. Only 20 percent of the major international companies are utilizing all four platforms to engage with stakeholders.
Tweet Zanby: Create your community from JD Lasica on Vimeo. I've been fascinated for some time by Zanby, a plaform for online collaboration for businesses and nonprofits that launched last year. I chatted a few months ago with Leif Utne — technologist, journalist, activist, musician, social entrepreneur and son of the founder of the Utne Reader — about Zanby and its potential as a customized collaboration community for millions of members.
Zanby: Roll your own community | Socialbrite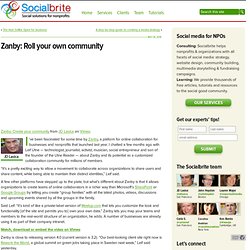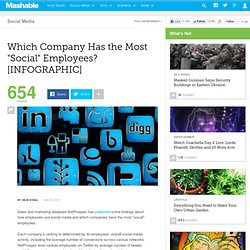 Sales and marketing database NetProspex has published some findings about how employees use social media and which companies have the most "social" employees. Each company's ranking is determined by its employees' overall social media activity, including the average number of connections across various networks. NetProspex even ranked employees on Twitter by average number of tweets and followers, and compared male and female employees' social scores. Do the deeds of employees who are active online have a trickle-up effect on a brand's overall social media presence? Take a look at the infographics created by Social profile research and discovery company Flowtown below and let us know what you think.
Which Company Has the Most "Social" Employees? [INFOGRAPHIC]
Inbound Marketing Forum Group News
Why Smart Marketing Is About Help, Not Hype The difference between helping and selling is just two letters. But those two letters are critically important to your company's success. You're not competing for attention only against other, similar products.
4 Detective Tricks to Find Your Customers in Social Media | Social Media Marketing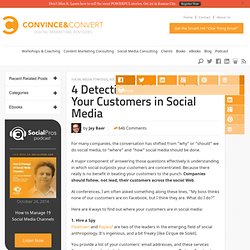 This article aims to show you how to attract users and make them hungry for more. Who is this post for? Anyone with a website. Not all of the items listed below will apply directly to you and your business; however, they are, at the very least, an excellent source for inspiration.
50 Ways to Get Your Site Noticed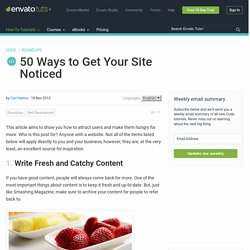 Social Networking Time Management Tips Yesterday I had to opportunity to present on a panel at the BIG Council: "Social Media Strategy" - An Interactive Program which included an all-star line up of Charlotte's top social networking marketers including; Scott Hepburn, Fred Sexton, Brian Hamlett, and Mike Granetz.
Social Networking Time Management Tips
Skitch Image Sharing Updates Skitch sharing is now part of the Evernote Service. Click here to get Evernote and start sharing your images.
marismith > ReclaimPrivacy.org - scan your Facebook settings | M
When Jeff Howe coined the term "crowdsourcing" in a 2006 Wired article his examples were mainly "labor markets for specialized talents," like iStockphoto, iFilm, and InnoCentive. But the business model of outsourcing to the crowd has grown (as has Howe's article — he published a book on the topic in 2008). As open-source software developers learned long ago, asking a pool of people to create something can be faster, cheaper, and more accurate than putting a project in the hands of individuals. These five start-ups are doing just that by using crowdsourcing in creative ways. 1.
5 Creative Uses for Crowdsourcing
How to blog on Wordpress.com video tutorial | Socialmedia.biz
Videos and tutorials | Socialbrite
Profiles of change agents, social enterpreneurs & nonprofit influencers Following is a listing of interviews we've done related to social media and the nonprofit/cause worlds. Looking for video tutorials?
I've had a great opportunity recently to learn what B2B customers want in content by – shock of shocks – asking them. The impetus is a competitive analysis I'm helping do for a publisher, which includes asking readers about everything from what they read, how they get it (print or online) to how they use content to do their jobs better. The results have been an interesting grab-bag of reassuring truths, outright surprises and common-sense dope slaps that show how we in the "content marketing" business can get so caught up in our high-falutin' notions we forget about the real problems our readers face.
What Works, What Doesn't : What B2B Readers Want, Circa 2010
Most under-rated aspect of social media marketing | {grow}
The five questions small businesses need to ask about social med
The new realities of corporate blogging | {grow}
The NEW "Four P's" of marketing | {grow}
How to write for the web: 23 useful rules
Analyze your Twitter Reach
Building An Online Community Team: The 5 Roles You Need To Fill - FeverBee
Corporate Social Media Policies: The Good, the Mediocre, and the Ugly
10 Awesome Free Tools To Make Infographics
A/B testing comes to the masses with WordPress plugin