Economic development
Get flash to fully experience Pearltrees
Product quality and productivity at its UK operations was "absolutely at the same level" as its other European and US plants, Mr Reithofer added.
Under Mr Prisk's new initiative, such hiccups could be eased by ministers. The scheme is part of the Coalition's plans to "listen more" to businesses, said Mr Prisk, and for cabinet ministers to focus on economic opportunities that might arise within their briefs.
Welcome to YouTube! The location filter shows you popular videos from the selected country or region on lists like Most Viewed and in search results.To change your location filter, please use the links in the footer at the bottom of the page. Click "OK" to accept this setting, or click "Cancel" to set your location filter to "Worldwide".
Whittle's design pushed the available technology to the limit – too far for the decision-makers at the Air Ministry.
Scorecard and highlights Foreign direct Investment – European slowdown Global foreign direct investment (FDI) slumped by 39% in 2009, 1 with a 36% slide in FDI inflows to Europe 2 as economic uncertainty caused hesitation among investors. In Europe, the number of projects fell 11%, to 3,303, while FDI job creation maintained a three-year downtrend, falling another 16% to 124,923.
I am standing in a living-room-of-the-future.
Nkem's book launch proves very fulfilling THE launch of Nkem Mpamah's The Art of Achievement and Fulfillment took place at the David Lloyd Centre off Coldham's Lane on Saturday. Granta Park's £40m plans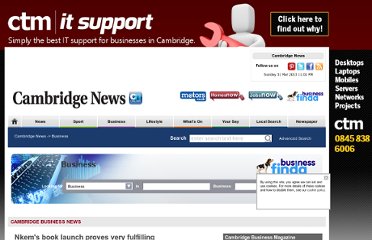 In partnership with GIS Planning, the world's leading provider of site selection software, Schaefer Marketing Solutions offers Internet and social media consulting services tailored to the needs of progressive economic development organizations. We provide cost-effective, online training and consulting for any-sized EDO. Services include: