Actu
France | Le guide ultime de la connaissance. RAGEMAG. Education News. Stanford Social Innovation Review. Data Without Borders matches tech-savy volunteers with organizations instead of data analysis.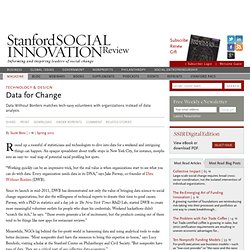 Round up a roomful of statisticians and technologists to dive into data for a weekend and intriguing things can happen. An opaque spreadsheet about traffic stops in New York City, for instance, morphs into an easy-to- read map of potential racial profiling hot spots. Accueil.
Youphil. Owni. Causeur. Libération. Le Monde.fr. Rue89.
---