Skill improving
Vintage and Aging Photo Effect Tutorials – The Ultimate Round-Up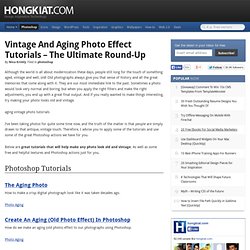 Although the world is all about modernization these days, people still long for the touch of something aged, vintage and well, old! Old photographs always give you that sense of history and all the great memories that come along with it. They are our most immediate link to the past. Sometimes a photo would look very normal and boring, but when you apply the right filters and make the right adjustments, you end up with a great final output.
About a month ago, Shane asked me to join the Elite Team as his editor. There's an old saying: "I may be dumb but I'm not stupid."…I said yes. To be on the cutting edge of this new era in filmmaking, I'm privileged to get my hands on Shane's footage that, regardless of camera, is always stunning and a joy to cut. Once the shooting is done, my job begins.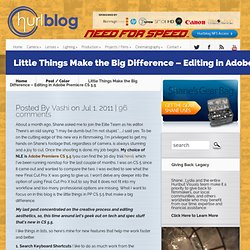 Little Things Make the Big Difference – Editing in Adobe Premiere CS 5.5
Develop Module Lightroom Tips | Page 1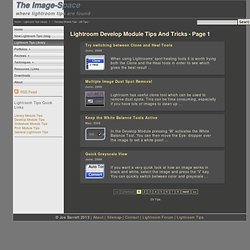 Multiple Image Dust Spot Removal June, 2008 Lightroom has useful clone tool which can be used to remove dust spots. This can be time consuming, especially if you have lots of images to clean up ... Keep the White Balance Tools Active May, 2008 In the Develop Module pressing 'W' activates the White Balance Tool. You can then move the Eye- dropper over the image to set a white point ...
Learn Lightroom in a Week – Day 4: Editing Essentials
This entry is part 7 of 13 in the Lightroom Session - Show All « Previous Next » In today's tutorial we'll continue our in-depth introduction to Lightroom by looking at the techniques and options for development and processing. We'll be discussing cropping, color and exposure control, presets and other tools in Lightroom! Photo Development Overview This tutorial starts the real work on your images.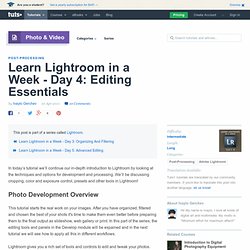 Tyler Stableford A series of small adjustments in Photoshop Lightroom can result in big improvements to images. I was tweaking a photo for a friend's antiques store Web site the other day, experimenting with Adobe Photoshop Lightroom to adjust the color and add a subtle vignette. I like Lightroom because it doesn't have the arduous learning curve that Photoshop does, and it's designed specifically for photographers and photographs. But I don't have many tricks in my Lightroom photo-doctoring bag.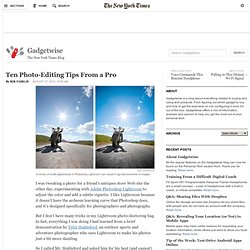 Ten Photo-Editing Tips From a Pro