Nerd
Like a G6 Parody: Roll a D6, Roll a D6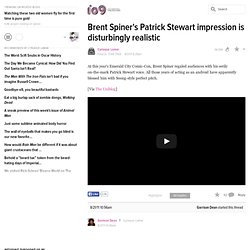 Brent Spiner's Patrick Stewart impression is disturbingly realistic
Wow. He even uses some of Spiner's mannerisms. I hit upon the same thing while watching Community, as well. Towards the end of the "Critical Films Studies" episode (season 2, ep. 19), when Abed is apologizing to Jeff, he mentions a few sci-fi characters that he relates to. Johnny 5, Mork, Hal, Kit, and Data are the characters he lists.
They autotuned Morgan Freeman! : Pharyngula
Star Trek acid drive by pajlot.
Party In the CIA - Weird Al with American Dad
Rebecca Black - Friday (OFFICIAL PARODY VIDEO) - Sunday - Sadie B
Tonight I'm Frakking You
Star Trek - Acid Drive
Geek and Gamer Girls Song Video
dance_monkeys_dance.swf (application/x-shockwave-flash Object)