Minis
Critical Hit Terrain | Starter Terrain Tutorials. Polyethylene Foam, Roll, Tubes, Polyethylene Closed Cell Foam Sheets. The Foam Factory, Packaging Foam, Charcoal Foam, Pick N Pluck. Foam N' More & Upholstery. Create custom foam cushioning for your packaging product without cutting.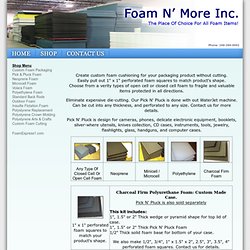 Easily pull out 1" x 1" perforated foam squares to match product's shape. Choose from a verity types of open cell or closed cell foam to fragile and valuable items protected in all directions. Eliminate expensive die-cutting. Privateer Press Forums. BrushThralls.com. Terrainthralls. TableTop Terraformers - 3T-Studios — World Class Custom Table-Top Scenery & Terrain - Models, Miniatures, Displays, Dioramas and More. How to Make Wargaming Terrain - Rocky Hills — TableTop Terraformers - 3T-Studios.
Welcome to our first step-by-step article that will guide you through making an actual, fully finished piece of terrain in the 3T-Studios style!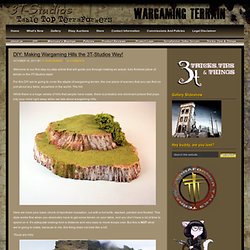 For this DIY we're going to cover the staple of wargaming terrain, the one piece of scenery that you can find on just about any table, anywhere in the world- The hill. While there is a huge variety of hills that people have made, there is probably one dominant picture that pops into your mind right away when we talk about wargaming hills: Caen. Inexpensive and easy homemade flock! Thought I would post up a quick tutorial about how I go about making my own homemade flock for figure basing and terrain projects.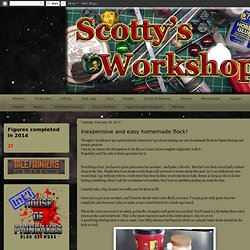 I am by no means the first person to do this so I cant claim complete originality with it. Hopefully you'll be able to find a good use for it. Privateer Press. Milk Jug Lightbox. I can't remember where I saw this idea, it could very well have been on these forums and if it was I apologize for posting the idea again but I thought it was just too good not to pass along.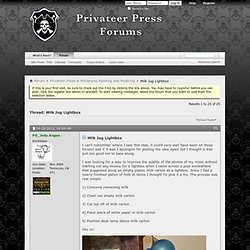 I was looking for a way to improve the quality of the photos of my minis without shelling out any money for a lightbox when I came across a post somewhere that suggested using an empty plastic milk carton as a lightbox. Since I had a nearly finished gallon of milk at home I thought I'd give it a try.
The process was real simple1) Consume remaining milk2) Clean out empty milk carton3) Cut top off of milk carton4) Place piece of white paper in milk carton5) Position desk lamp above milk cartonlike so: Here are some photos I snapped with this setup. Nothing fancy, just stick the mini in the box, flip on the light, point and shoot. And here's the result:
---