Lit
Scribd. Hunter S. Thompson quotes. Oh those crazy grammar goofs… | clayzmama says…… The Best Science Fiction Books (According to Reddit) Recently, someone asked Reddit for a list of the best science fiction books of all time.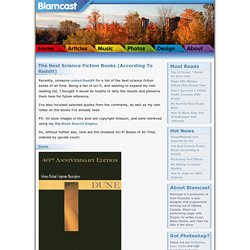 Being a fan of sci-fi, and wanting to expand my own reading list, I thought it would be helpful to tally the results and preserve them here for future reference. I've also included selected quotes from the comments, as well as my own notes on the books I've already read. PS: All book images in this post are copyright Amazon, and were retrieved using my Big Book Search Engine.
So, without further ado, here are the Greatest Sci-Fi Books of All Time, ordered by upvote count: Dune. Twenty Thousand Leagues Under the Sea. Your Picks: Top 100 Science-Fiction, Fantasy Books. Chris Silas Neal More than 5,000 of you nominated.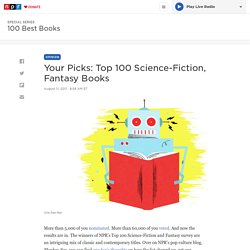 More than 60,000 of you voted. a6omcl2la0ivlxsn3o8m.jpg (JPEG Image, 3800x2300 pixels) The Complete Works of William Shakespeare. Welcome to the Web's first edition of the Complete Works of William Shakespeare.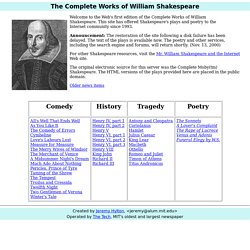 This site has offered Shakespeare's plays and poetry to the Internet community since 1993. Announcement: The restoration of the site following a disk failure has been delayed. Free eBooks - All Our Classic Books and Novels.
---