Dom Depot
the beauty of torture 14 - on the rack - 10 min - EroProfile
bdsm Fem Dom - MrA en sublatexia.homemadebdsm.com 125094 - EroProfile
capz's Pics - FetLife
541044Ridden.gif (GIF Image, 500x285 pixels)
Tutorials – DIY BDSM
Rope Whip
We no longer build the large furniture items, but you can download free plans to build the BDSM designs (keep reading). More Exciting news! Another friend of the site created the long-awaited Criss-Cross plans in Adobe Acrobat (a.k.a. .pdf) format. Thanks to friends Tim and Daniel - we now have pdf versions of all the furniture plans available!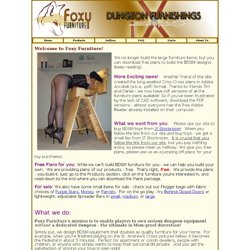 Foxy Furniture - Dungeon Furnishings Hidden in Plain Sight!
Sartan's BDSM Workshop: Projects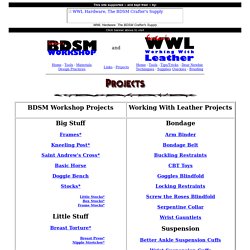 If you see something here that's you'd like to have but aren't equipped to make yourself, or might be interested in some new and innovative equipment like the all new AcuFit cuffs, please check out my new sales site, Sartan's Workshop. Welcome to the "Master Projects" page. This page combines links to projects on both BDSM Workshop and WWL. I hope that it will make scanning for something to build a bit easier, and also introduce both sites to someone who might be familiar with only one.
Make a Frozen Cock-sicle New! 8/4/10 Cool off by wrapping your lips around an icy dildo pop.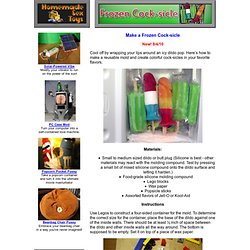 Make a Frozen Cock-sicle
Laser Sword Sex Toys - Dildos
Laser Sword Dildos Here's what you need: a toy laser sword with a retractable blade, a brightly colored clear jelly dildo, a utility knife, and a mini LED flashlight. Match the color of the flashlight to the color of the dildo if you can.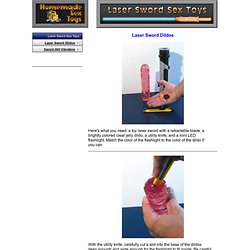 look_052.jpg (JPEG Image, 1152x745 pixels)
Made To Pleasure | MTP
2530_s04_jenni
Paracord Monkey Fist
The Monkey Fist knot has a long history since 1800's, main purpose as a weight at the end of a rope or just for decorative use. The monkey fist was also used as a melee weapon among sailors and gangs. In this guide I will show how to make the Monkey Fist using a marble inside the knot.