Burning Man
▶ Oh, the Places You'll Go at Burning Man!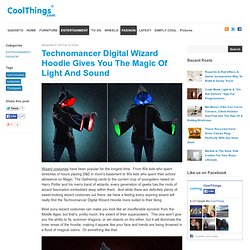 Technomancer Digital Wizard Hoodie
Wizard costumes have been popular for the longest time. From 80s kids who spent stretches of hours playing D&D in mom's basement to 90s kids who spent their school allowance on Magic: The Gathering cards to the current crop of youngsters raised on Harry Potter and his merry band of wizards, every generation of geeks has the roots of wizard fascination embedded deep within them. And while there are definitely plenty of sweet-looking wizard costumes out there, we have a feeling every aspiring wizard will really find the Technomancer Digital Wizard Hoodie more suited to their liking. Most puny wizard costumes can make you look like an insufferable sorcerer from the Middle Ages, but that's, pretty much, the extent of their superpowers. This one won't give you the ability to fly, summon dragons, or set objects on fire either, but it will illuminate the inner areas of the hoodie, making it appear like your face and hands are being drowned in a flood of magical colors.
Shop — RorschachMasks.com
A Glimpse Into Burning Man on Vimeo
Home decor lessons I learned from Burning Man
Sacred Couch, by Nico Aguilera It's been almost a decade since I made my final pilgrimage to Burning Man, the week-long arts festival in the Nevada desert that kicks off next week… but when I look around my house, I feel like I can still see influences of the Playa on my home. See, part of the Burning Man experience is creating a little home for yourself out in the desert.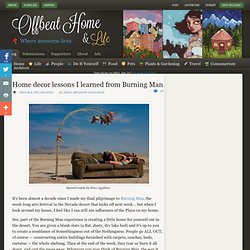 ​In just 14 episodes, Joss Whedon's sci-fi masterpiece Firefly managed to build one of the most devoted fanbases in all of nerd-dom. Properties like Star Trek or Doctor Who may have it beat in sheer numbers, but the Browncoats make up for this with their loyalty and tenacity. What is the secret of the show's appeal?
Topless Robot - Firefly's 15 Best Chinese Curses (and How to Say Them)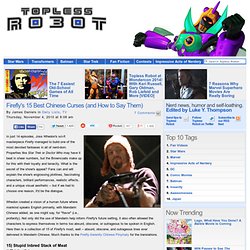 2014 Art Theme: Caravansary For centuries, Silk Route travelers crossed paths in caravansaries, bustling caravan stops offering more than just shelter from the desert wilderness; they were vital centers of cultural exchange, bringing together traders, pilgrims, monks, nomads, traveling entertainers, and wild-eyed adventurers from all points of the compass to share their stories around a common fire. What Is Burning Man? Once a year, tens of thousands of participants gather in Nevada's Black Rock Desert to create Black Rock City, dedicated to community, art, self-expression, and self-reliance. They depart one week later, having left no trace whatsoever. Burning Man is also an ever-expanding year-round culture based on the Ten Principles.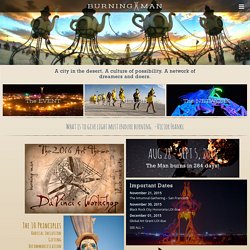 The Burning Man Project
Folding Cardboard Chair
Painting on Location with Roger Bansemer - Burning Man on Vimeo
Meet the Makers: Lightchimes