Tutorials
Progress Bars Design Inspiration - 46 Lovely Examples. Progress bars have once been very popular on the internet and you used to see them on a lot of sites at that moment exclusively for loading a site.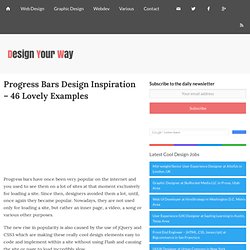 Since then, designers avoided them a lot, until, once again they became popular. Nowadays, they are not used only for loading a site, but rather an inner page, a video, a song or various other purposes. The new rise in popularity is also caused by the use of jQuery and CSS3 which are making these really cool design elements easy to code and implement within a site without using Flash and causing the site or page to load incredibly slow.
Enjoy these 46 lovely progress bars and subscribe to the site via the social media accounts if you want to see more design inspiration like the article presented here. Photoshop | Pixel Curse | Visual inspiration for creative professional. 30 Christmas Holiday PSD & AI Flyer Templates The success of any event, being it a show, a sale, a party or a simple get-together, often depends on how well you can promote it.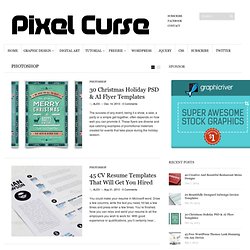 These flyers are diverse and eye-catching examples of promotional materials created for events that take place during the holiday season. 45 CV Resume Templates That Will Get You Hired You could make your resume in Microsoft word. Draw a few columns, write the text you need, hit tab a few times and press enter a few times. 70 Tutorials Using Photoshop To Design A Website. This article features a huge amount of Photoshop web design tutorials, which will teach you simple effects which can be combined together in order to create a great website design.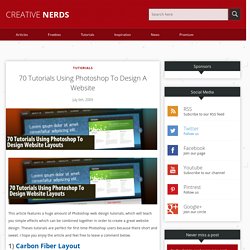 Theses tutorials are perfect for first time Photoshop users because there short and sweet. I hope you enjoy the article and feel free to leave a comment below. 1) Carbon Fiber Layout you'll learn how to make this sleek layout with a carbon fiber background that would look great as a landing page for a website. Everything You Need to Know About Image Compression - Noupe Design Blog. Feb 03 2010 Proper use of image compression can make a huge difference in the appearance and size of your website image files.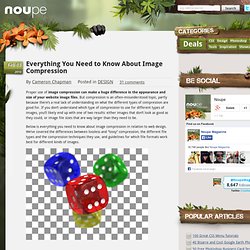 But compression is an often-misunderstood topic, partly because there's a real lack of understanding on what the different types of compression are good for. W3Schools Online Web Tutorials. 10 Free Online Books for Web Designers. There's a never ending supply of information out there for us web designers.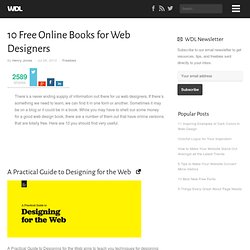 If there's something we need to learn, we can find it in one form or another. Sometimes it may be on a blog or it could be in a book. While you may have to shell our some money for a good web design book, there are a number of them out that have online versions that are totally free. Here are 10 you should find very useful. A Practical Guide to Designing for the Web. Smashing Magazine.
---