Generators
JotForm · Easiest Form Builder. CSS3 Text-Shadow – Can It Be Done in IE Without JavaScript? Update: July 13, 2011 You may want to read my subsequent article, which covers using my cssSandpaper JavaScript library to produce multiple blurred and un-blurred text-shadows in IE7+.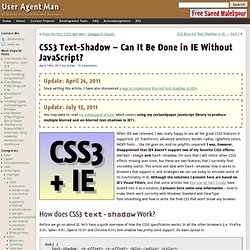 When IE9 was released, I was really happy to see all the great CSS3 features it supported. 2D Transforms, advanced selectors, border-radius, rgba/hsla colors, WOFF fonts … the list goes on. And no polyfills required! CSS3 Gradient Generator. Ultimate CSS Gradient Generator - ColorZilla.com. Background: #1e5799; /* Old browsers */ background: -moz-linear-gradient(top, #1e5799 0%, #2989d8 50%, #207cca 51%, #7db9e8 100%); /* FF3.6+ */ background: -webkit-gradient(linear, left top, left bottom, color-stop(0%,#1e5799), color-stop(50%,#2989d8), color-stop(51%,#207cca), color-stop(100%,#7db9e8)); /* Chrome,Safari4+ */ background: -webkit-linear-gradient(top, #1e5799 0%,#2989d8 50%,#207cca 51%,#7db9e8 100%); /* Chrome10+,Safari5.1+ */ background: -o-linear-gradient(top, #1e5799 0%,#2989d8 50%,#207cca 51%,#7db9e8 100%); /* Opera 11.10+ */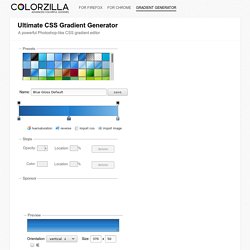 Top 10 Free Resources for Background Patterns and Textures for Web Designers. Quite often we stumble on to a blog that looks bland, in dire need of some color, a little bit of character, these sites maybe aren't very familiar with blog design, let alone CSS.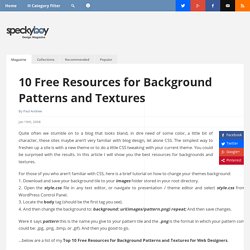 The simplest way to freshen up a site is with a new theme or to do a little CSS tweaking with your current theme. You could be surprised with the results. Build a Feed You Can Cut 'n Paste. CSS3 Generator - By Eric Hoffman & Peter Funk. Stripe Generator - ajax diagonal stripes background designer. TIP: You can modify slider values by directly typing in the desired value. stripe sizespacingstripe color(s)background styleshadowgradient heightbackground color(s)stripe orientation preview Tile size: 40px * 40px open fullscreen preview Tiled.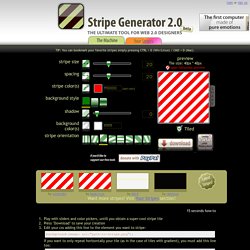 BgMaker ||| Background maker || Tiled Background generator | Web Background maker. 25 Awesome Tools for Choosing a Website Color Scheme. As a designer, color management should be an integral part of your workflow.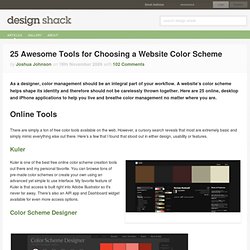 A website's color scheme helps shape its identity and therefore should not be carelessly thrown together. Here are 25 online, desktop and iPhone applications to help you live and breathe color management no matter where you are. Online Tools. 40 Online Generators for Web Designers Should Bookmark.
Online Generators for Web Designers can be a great way to save time in your web design projects.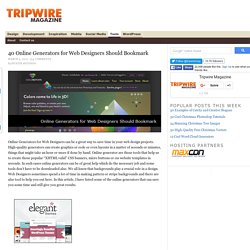 High-quality generators can create graphics or code or even layouts in a matter of seconds or minutes, things that might take an hour or more if done by hand. Online generator are those tools that help us to create those popular "XHTML valid" CSS banners, micro buttons or css website templates in seconds. In such cases online generators can be of great help which do the necessary job and some tools don't have to be downloaded also.
---