Design
Unique Chairs, Modern Chairs. - StumbleUpon. This Is Why I'm Broke - StumbleUpon. Clever Bike Lock Disguised As Water Bottle. Images via Küat Racks Bottle Lock Press Release We've seen a lot of clever bike lock designs, but the Küat Racks Bottle Lock is definitely unique.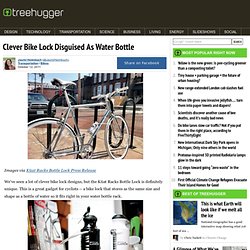 This is a great gadget for cyclists -- a bike lock that stores as the same size and shape as a bottle of water so it fits right in your water bottle rack. We love beautiful designs for bikes, especially when it comes to keeping your bike longer. Bike theft is a real problem, but that doesn't mean ugly bike locks have to be an unfortunate side effect of bicycling around town. As Red Ferret points out, "Most of them look rather ugly when they aren't in use.
Hand-Painted Food Packaging by Eric Barclay.
---