Free Learning
Whether your goal is to earn a promotion, graduate at the top of your class, or just accelerate your life. Lectures can help get you there. Our archives of lectures cover a huge range of topics and have all been handpicked and carefully designed by experienced instructors throughout the world who are dedicated to helping you take the next step toward meeting your career goals. With OnlineCourses.com's engaging collection of lectures, your free time will turn into self-improvement time. Our online lectures are more than lecture notes or a slideshow on a topic; they were designed for audiences like you, with carefully sequenced themes and topics taught by veteran educators, and often with additional resources for your own independent study.
University of Oxford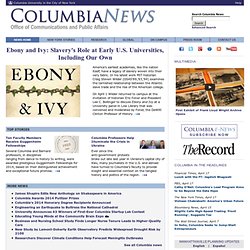 Columbia News
New Director Named for Columbia's Double Discovery College Prep Program for Local Students Columbia College announced today the appointment of Joseph Ayala as the new Executive Director of its Double Discovery Center, a Columbia College program that works to enhance higher education opportunities for local low-income and first-generation youth and adults between the ages of 12 and 27. Double Discovery Center's (DDC) academic enrichment program serves approximately 1,000 students each year and has become a model for similar programs throughout the United States.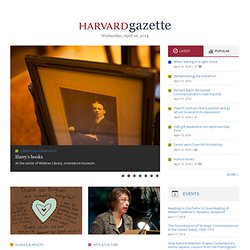 Audio/Video Stories Ministry of friendship By Corydon Ireland, Harvard Staff Writer | December 13, 2013
Multimedia | Harvard Gazette Online
Academic Earth believes everyone deserves access to a world-class education, which is why we continue to offer a comprehensive collection of free online college courses from the world's top universities. And now, we take learning outside the classroom with our original series of thought-provoking videos, designed to spark your intellectual curiosity and start a conversation. Watch, learn, share, debate. After all, only through questioning the world around us, can we come to better understand it.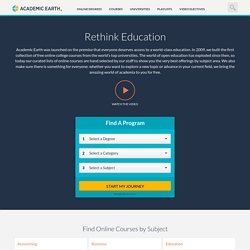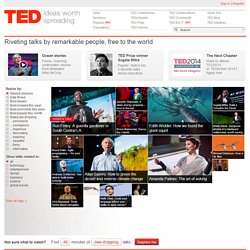 Melinda Gates and Bill Gates Why giving away our wealth has been the most satisfying thing we've done In 1993, Bill and Melinda Gates—then engaged—took a walk on a beach in Zanzibar, and made a bold decision on how they would make sure that their wealth from Microsoft went back into society.