Shopping for Kids
Swoop Bags | Hang it. Store it. Floor it. Love it. Swoop it! Purple Silicone Bracelets. Kids backpacks that make you go rawr, and other cool new baby + kids gifts. This past week, I had a dandy time perusing the 600,000* aisles of the NY International Gift Show, scouting out what's cool in gifts and gear and design for our fair readers.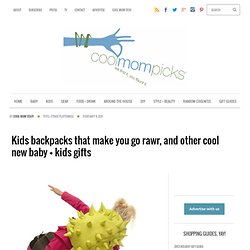 I was also honored to be one of ten judges of the Best New Product Awards in the Baby+Kids category. One of my favorite finds of the whole show turned out to be the winner in the gear category: A new set of totally funky, punky, animalistic backpacks from a new company called Madpax. Educational Toys, Learning Toys, Games for Kids | Museum Tour. Bb_byoona_xl. Moxie Kids Online - Ses Petites Maeve Stitch Plaid Skirt, Girls Couture Clothing, Girls Fall, Designer Girls Clothing, French Clothing for Girls. Little Alouette Wooden Toys. Nova Natural Toys & Crafts: Baby & Teething Toys, Baby Carriers & Slings, Waldorf Dolls, Dollhouses, Beeswax Crayons, Wooden Blocks, Kitchens, Trucks, Castles and More!
Soft™ Clothing :: Home. Big Pig | Angry Birds Store. Gymnastics Gifts, T-shirts, Stickers and more. Eco-Friendly - American Made Arts & Craft Toys.
---