Recipes
Best Stove Top, One Pot Macaroni and Cheese Recipe. Update: Try this "healthier" version of Broccoli Mac and Cheese.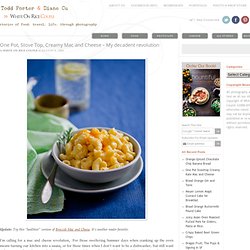 It's another reader favorite. I'm calling for a mac and cheese revolution. For those sweltering Summer days when cranking up the oven means turning our kitchen into a sauna, or for those times when I don't want to be a dishwasher, but still want to have a satisfying home cooked meal, I need a meal that can be cooked fairly quickly and efficiently. I know Todd and I aren't the only ones who come home from a hectic work day and ask that one universal question "What are we going to cook for dinner?" Easy Stove Top Macaroni And Cheese Recipe - Food.com - 60350. Homemade Mac and Cheese Recipe. Baked Cinnamon Apple. Another easy but fun dessert is this baked apple with a cinnamon sugar core.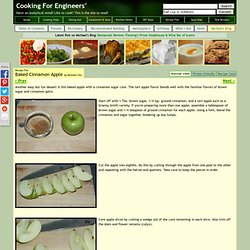 The tart apple flavor blends well with the familiar flavors of brown sugar and cinnamon spice. Start off with 1 Tbs. brown sugar, 1/4 tsp. ground cinnamon, and a tart apple such as a Granny Smith variety. If you're preparing more than one apple, assemble a tablespoon of brown sugar and 1/4 teaspoon of ground cinnamon for each apple. Chicken, Asparagus, and Mushroom Skillet Recipe. Sauteed Chicken with Asparagus and Mushrooms. Penne with Chicken and Asparagus Recipe.
---