saving $$$
Get flash to fully experience Pearltrees
Posted on November 01, 2011 in Bed, Bath & Kitchen , Decor & Furniture , Organise & Personalise by Simone Via: amy-newnostalgia.blogspot.com Why didn't I think of that?! We guarantee you'll be uttering those words more than once at these ingenious little tips, tricks and ideas that solve everyday problems … some you never knew you had!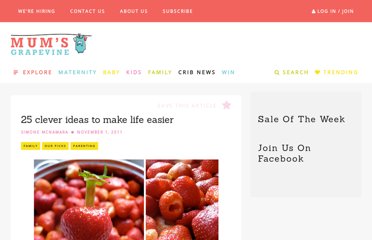 Winter is here and if the cold, dry air has turned your hands into sandpaper like it has mine, you`ll appreciate this hand scrub that leaves your hands soft, smooth and smelling delicious! Turn your old jars into thoughtful, homemade gifts (& keep one for yourself!) I suggest using small jars, since all the ingredients are edible (and therefore spoilable) and should be used within a month.
Home Lifestyle Groceries and Food
Baking soda naturally absorbs odours, so why not take advantage of that to create simple, inexpensive air fresheners? Here's how: Use a hammer and and a nail to poke holes in the lid of a small canning jar. (The heart is a nice touch, but clearly not necessary) Fill the jar about 1/4 full with baking soda Add 6-8 drops of lavender essential oil
Humans aren't the only ones that can enjoy the many uses for white distilled vinegar-even our four-legged friends can benefit. Give your dog a gleaming coat by spraying or rubbing with a solution of 1 cup white distilled vinegar to 1 quart water. As a bonus, you save the cost of an expensive shine product used on show animals. (Works even on a horse!) Keep a dog from scratching its ears by wiping them out regularly with a soft cloth dipped in undiluted white distilled vinegar.
Thank you for visiting Little House in the Suburbs. Please subscribe and you'll get great simple living tips and how-to articles delivered to your inbox, for free! I have never been one for sugar scrubs. I have oily skin and the idea of putting something with more oil in it on my face, regardless of how 'scrubby' it claimed to be–appalling. But after reading that sucrose in a good oil actually has alpha-hydroxy (chemical exfoliant) properties, I thought I might give it a try. Besides, I had a lot of dried basil in the garage.
While doing research for this article, we were amazed at the number of uses for baking soda. When one looks back in history, before we had such a huge array of different cleaning products, baking soda was one of the items most frequently used. It worked great, it was economical and best of all it was safe to use. In fact, Grandma had hundreds of uses for baking soda. At Everyday Wisdom, LLC, we have collected some of the most popular ones. They are time tested and they work.
Update: If using a HE washer, our readers have suggested throwing the mix directly into the wash load, rather than the soap dispenser. Please read through the comments for more Q&As, as you have all been so wonderful to share your experiences! And if you're looking for even more information on our DIY suds, see our sudsy update to this post, right here . The last time I purchased laundry soap, I threw a fit in the cleaning aisle and spent the drive home moaning over the high coast of detergent.
Last week, we published a story on 25 Household Uses for Borax , and the response was overwhelming! So this week, we decided to follow up with new tips -- your tips -- for getting the most out of this "miracle mineral." So, there's this stuff called Borax. You may be familiar with its full product name: 20 Mule Team Borax . Essentially, Borax is a cleaning agent derived from naturally occurring minerals -- meaning it's nontoxic and eco-friendly. Though it's known primarily as a laundry booster, its uses extend far beyond that -- from pest control and weed control to odor elimination.
Here is a nice stack of different recipes for making homemade laundry detergent that I've collected over the years. Do they work? Yes, I've had good luck with them. At the time I was using them, we had a relative who was in trade school living with us. Every day he was mechanic grease from head to toe–the clothes still cleaned up nice!