Karamail
Karam Slassi
Le business model du transmedia | transmedia lab
Gender Marketing - Quelles différences hommes/femmes face à l'alimentation?
Publié le 15 juin 2011 Face à leur assiette, les hommes et les femmes agissent différemment: ces dernières font plus attention à l'équilibre alimentaire, avec pour conséquence un taux d'obésité plus faible . Masculin/Féminin issue du de 2005, elles consomment par exemple 40% de fruits et légumes de plus et 13% de calories de moins, avec des résultats bénéfiques: les trois quarts ont un poids normal entre 35 et 75 ans, contre moins de la moitié des hommes, qui sont nombreux à être en surpoids dès la trentaine!
L'aventure Pop in the City : quand les femmes révolutionnent le tourisme « Un raid urbain féminin » ou la nouvelle façon de voyager inventée par Clémentine Charles, Marie Pichot et Sophie Gastine. Ces 3 passionnées de voyages, de découvertes et de sensations fortes ont créé une course sur mesure pour les femmes modernes : Pop in the city. En anglais, « to pop in » signifie « faire un saut quelque part, passer dire bonjour ». Une expression qui colle au concept de la course : s'immerger le temps d'un week end au cœur d'une ville européenne et de ses habitants pour une aventure aussi brève qu'intense. Chaque course comptabilise différents challenges, le but est de réaliser le maximum de challenges en un minimum de temps.
VEILLE | Womenology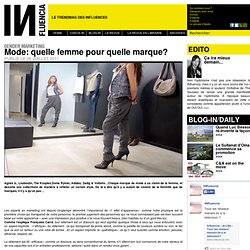 Gender Marketing - Mode: quelle femme pour quelle marque?
Publié le 06 juillet 2011
Imagine Demain by Laser - Relation marque-consommateur: le triomphe du ludique!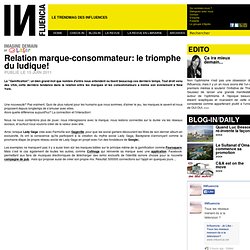 Publié le 15 juin 2011
Publié le 09 mars 2011 Constat: les entreprises américaines vont dépenser plus de 2,2 milliards de $ en 2011 pour développer le bouche à oreille autour de leurs marques, soit 43% de plus qu'en 2008 (source : PQ Media). Et pour ce faire, il n'y a pas qu'Internet ou la communication.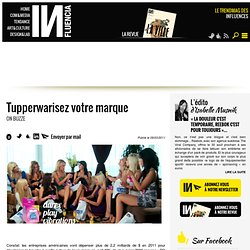 Il était une fois - Tupperwarisez votre marque
Etudes - L'ère du social shopping
Publié le 16 juin 2011 Facebook Stores, Facebook Credits, Facebook Deals: le social shopping est le prochain Eldorado des consommateurs et des marques. Coup de projecteur du pôle stratégie de l'agence Dagobert...
contacts instituts étrangers