Apple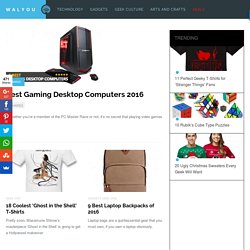 4 shares As the new trend of wirelessly charging furniture emerges at CES 2014, we examine what it could mean for the … Turn Your House Into The Enterprise Deck For 30K USD Sure, you might really like Star Trek, but do you like it so much you'd spend 30 grand in turning … Adobe Takes a Shot at 3D Printing with New Photoshop Tool Photoshop, the piece of software that can make or break anyone's image, has been recently updated to include 3D printing …
Deals Editor's Pick OS X Tips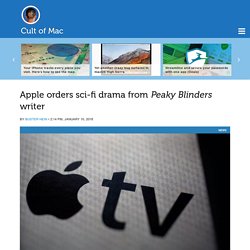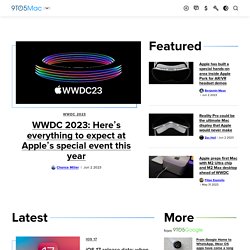 Evidence presented by Samsung Apple SVP of Marketing Phil Schiller took the stand again today in the Samsung Patent Trial v2. Schiller was grilled on a number of emails Samsung came up with in discovery that painted Apple as paranoid about the rise of Android and Samsung's Galaxy line in particular.
You're never too old to play with LEGO. The colorful, interlocking plastic bricks do wonders for creative thinking and enhancing your imagination, and they're fun too. We've picked out 10 cool, useful, and fun LEGO-themed or related apps and games that appeal to adults as much as—or even more so than—the young'uns that'll be pulling at your iPhone or iPad the moment they see them.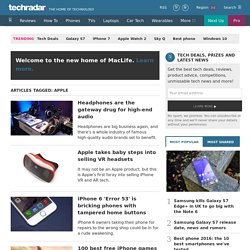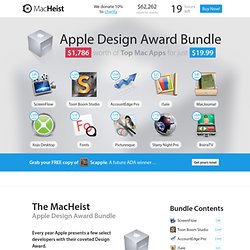 Version: 4.5 ScreenFlow It's never been so easy to create gorgeous dynamic screencasts. Screenflow helps you create beautiful software demos, tutorials, and presentations by capturing not only high quality video of your screen, but also simultaneously your microphone, computer audio and camera.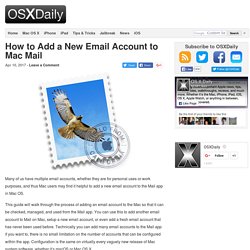 This weeks featured Apple gear setup comes to us from Peter L., a professional music producer based in Manhattan. Let's learn a bit about more about this pro studio setup, and what essential apps are used for both the OS X and iOS side of things. Tell us a bit about your setup hardware? I'm running a variety of hardware, all which contributes to my music making in some way:
In Rare TV Interview, Apple CEO Tim Cook Calls China Mobile Deal 'Watershed Moment' Apple CEO Tim Cook sat for a rare interview on Wednesday, alongside China Mobile chairman Xi Guohua. The interview with CNBC saw Cook refer to the iPhone deal with China Mobile as a "watershed moment," and also saw him praise the carrier's "very fast network." MacTrast News Digest for January 14, 2014 The MacTrast News Digest for January 14, 2014 – All the news that fits in a 580 pixel wide column.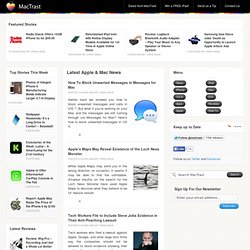 Official Google Mac Blog
By Mike Morton, Google Mac Team Google Engineer Mike Morton continues his nerd's-eye-view report from the Apple Worldwide Developer Conference in San Francisco. Today Mike starts with a festive breakfast and finishes at this year's edition of the legendary Stump the Experts. My team had a 7:00 a.m. meeting at a nearby restaurant so I woke early, dashed through the shower, glanced guiltily at the hotel gym, and headed out, only to find the restaurant is closed on Tuesdays. I continued on to a 7:30 breakfast for folks who coordinate chapters of CocoaHeads. I had a great time talking with people from around the world, everything from small talk about the conference to challenges in getting people to present technical talks.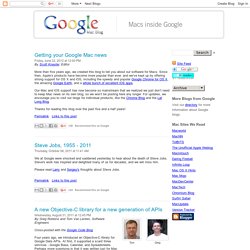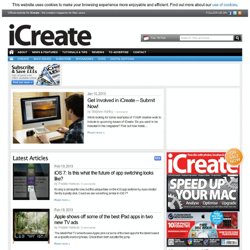 Dec 8, 2012 Tighten your Mac's security by adding a message to your login screen Dec 7, 2012 iCreate's image editor of choice was recently bought by Google, now it's free on the iOS App Store for your iPhone and iPad Dec 6, 2012 Is this mockup from The Verge forums what Jony Ive's redesigned iOS 7 lock screen could look like?
An email Apple cofounder Steve Jobs sent to his top executives outlines the vision he had for the company in 2010, including future iPhone iterations, "Apple TV 2" and changes to MobileMe that hoped would leapfrog Google's cloud services. During the Apple v. Samsung patent trial on Friday, Apple software engineer and head of the company's human interface team Greg Christie took the stand to offer background on the original iPhone, specifically the "slide-to-unlock" feature. High-resolution display processing company Pixelworks on Friday announced the appointment of ex-iPod and iPhone hardware executive David J. Tupman to its board of directors, with the news coming one month after the firm revealed Apple orders accounted for ten percent of its business in 2013. An internal Apple document presented as part of the ongoing Samsung v.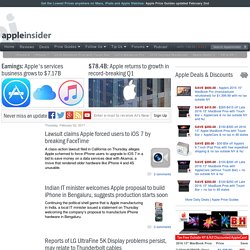 Earlier this week, Amazon launched its Fire TV media streaming box, entering a crowded market with devices from Roku, the Chromecast from Google and the Apple TV. With the Fire TV delivering a number of features rumored for a future Apple TV, reactions to Amazon's new box have certainly been of interest to Apple fans. With an immediate launch for Fire TV, the device has already landed in the hands of reviewers and at popular repair shop iFixit, which promptly tore the device down. Early analysis of the Fire TV suggests the device has market-leading hardware that is hindered by less-than-perfect software. On the hardware front, iFixit confirms the Fire TV is a powerhouse with a quad-core, 1.7 GHz Qualcomm Krait 300 processor, Qualcomm Adreno 320 dedicated GPU, 2 GB LPDDR2 RAM clocked at 533 MHz, 8 GB internal storage, 802.11a/b/g/n MIMO Wi-Fi and Bluetooth 4.0.