TechWorld
Get flash to fully experience Pearltrees
Micro-Lattice on Dandelion Dan Little © HRL Laboratories, LLC A collaboration of researchers from HRL, CalTech, and UC Irvine have created the new world's lightest material--some 100 times lighter than styrofoam.
Last year, a group of Japanese physicists grabbed headlines around the world by announcing that they could induce superconductivity in a sample of iron telluride by soaking it in red wine. They found that other alcoholic drinks also worked–white wine, beer, sake and so on–but red wine was by far the best. The question, of course, is why. What is it about red wine that does the trick? Today, these guys provide an answer, at least in part. Keita Deguchi at the National Institute for Materials Science in Tsukuba, Japan, and a few buddies, say the mystery ingredient is tartaric acid and have the experimental data to show that it plays an important role in the process.
Tracing the development of additive manufacturing from concept to key business strategy, Sculpteo highlights new links between manufacturers and their customers. Advertisement <div><a href="//ad.doubleclick.net/N3834/jump/iw.home/technology/emerging_technologies;pos=180_1;ptype=article;page=/emerging-technologies/3d-printing-and-future-manufacturing-infographic;sz=300x250,180x150;tile=1;ord=123456789?"
In Fast Company 's recent cover story, The Great Tech War Of 2012 , Farhad Manjoo plotted the battle plans for the four U.S. tech titans: Amazon, Apple, Facebook and Google. The four companies have dominated somewhat separate parts of the U.S. tech space in the past, but are speedily converging on each others' turf. Their ongoing skirmishes are daily evidence of this overlap, which will lead up to an all-out tech war in 2012.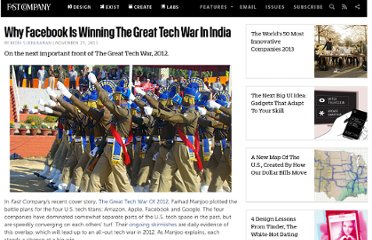 There must be some headache with the new Facebook Timeline pixel widths out there.
by Joshua Gans | 11:37 AM November 2, 2011
For something that we use so infrequently, the printer takes up a hugely disproportionate amount of desk space. Sure, there are plenty of tiny printer designs out there already, but designer Yang Jae Wook wants to take things in a different direction with Circle, a "courteous printer" concept. Circle is designed to rotate a piece of paper around a vertical drum before ejecting the printed page, curled around the device's exterior for the smallest possible footprint.