Animals
Stray labrador rescues blind pooch by becoming first canine-to-canine guide dog. By Hannah Rand Published: 16:10 GMT, 29 April 2012 | Updated: 16:23 GMT, 29 April 2012 A lucky homeless dog has been given a whole new lease of life by another stray mutt.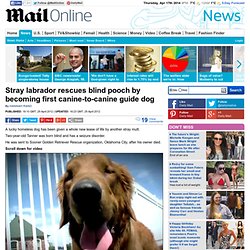 Two-year-old Tanner was born blind and has a seizure disorder. He was sent to Sooner Golden Retriever Rescue organization, Oklahoma City, after his owner died. Scroll down for video. BBC Nature - Plant evolved a bat beckoning beacon. 29 July 2011Last updated at 02:29 By Victoria Gill Science reporter, BBC Nature The dish-shaped leaves emit a powerful echo that helps the bat locate the plant A rainforest vine has evolved dish-shaped leaves to attract the bats that pollinate it, scientists have found.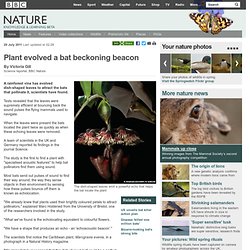 Tests revealed that the leaves were supremely efficient at bouncing back the sound pulses the flying mammals used to navigate. When the leaves were present the bats located the plant twice as quickly as when these echoing leaves were removed. Wik-Bee Leaks: EPA Document Shows It Knowingly Allowed Pesticide That Kills Honey Bees. The world honey bee population has plunged in recent years, worrying beekeepers and farmers who know how critical bee pollination is for many crops.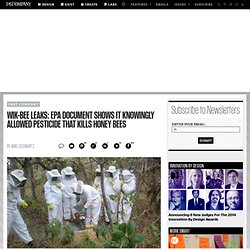 A number of theories have popped up as to why the North American honey bee population has declined--electromagnetic radiation, malnutrition, and climate change have all been pinpointed. Now a leaked EPA document reveals that the agency allowed the widespread use of a bee-toxic pesticide, despite warnings from EPA scientists. The document, which was leaked to a Colorado beekeeper, shows that the EPA has ignored warnings about the use of clothianidin, a pesticide produced by Bayer that mainly is used to pre-treat corn seeds. BBC Nature - Fossil 'is first pregnant lizard' 21 July 2011Last updated at 04:58 By Victoria Gill Science reporter, BBC Nature The lizard was just days from giving birth when it died and was buried A 120-million-year-old fossil is the oldest pregnant lizard ever discovered, according to scientists.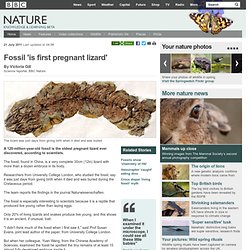 The fossil, found in China, is a very complete 30cm (12in) lizard with more than a dozen embryos in its body. Researchers from University College London, who studied the fossil, say it was just days from giving birth when it died and was buried during the Cretaceous period. The team reports the findings in the journal Naturwissenschaften. BBC Nature - Sepia cuttlefish videos, news and facts.
---