Videos
The Poptart Tragedy (Animated)
Indian Superman
The Office - Michael's Adam Sandler Impression
Mad TV - Abercrombie Skits
Bro Rape
SMBC Theater - Casino of Life
SMBC Theater - Season 2 - DVD
Show Us What You Got
THE SIMPLEST PRANK EVER.
If StarCraft Was Even More Complicated
The Simpsons - Itchy and Scratchy
What's this? A beer? on Vimeo
Jay-Z, Beyonce, Nicki Minaj, Prince & More: Baby Blue Ivy! [Skit]
Dare to fight ninja? [VIDEO]
Pizza Roulette - our most evil game yet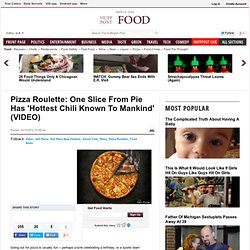 Pizza Roulette: One Slice From Pie Has 'Hottest Chili Known To Mankind' (VIDEO)
Going out for pizza is usually fun -- perhaps you're celebrating a birthday, or a sports team championship.
Troll high-fiving people in Pisa
Ulyanovsk, Russia: Massive oil tank explosion filmed from 2 km away