Cooking
Eugenia Bone :: Mycophilia. There are lots of misunderstandings about cooking mushrooms.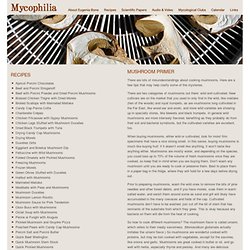 Here are a few tips that may help clarify some of the mysteries. There are two categories of mushrooms out there: wild and cultivated. New cultivars are on the market that you used to only find in the wild, like maitake (hen of the woods) and royal trumpets, as are mushrooms long cultivated in the Far East, like wood ear and enoki, and more wild varieties are showing up in specialty stores, like blewets and black trumpets. In general wild mushrooms are more intensely flavored, benefiting as they probably do from their soil and bacterial symbionts, but the cultivated varieties are excellent, too. 21 Simple One-Pot Pastas. Homemade Sriracha recipe on Food52. Author Notes: I began experimenting with homemade Sriracha two summers ago after discovering Joshua Bousel's recipe on Serious Eats ( The first batch, while tasty in its own right, was bright and in-your-face hot, and missing the earthiness of the beloved Huy Fong version.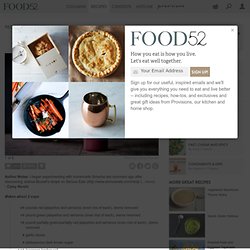 I spent the rest of my summer on a quest for an earthier, more complex sauce. By fall, I'd found it. The keys to this much improved homemade Sriracha were the following: A longer fermentation, achieved by increasing the amount of sugar. Using smoked sea salt in addition to regular kosher salt. DIY Maraschino Cherries with Amaretto - Savvy Eats. Some friends and I tried to go blueberry picking on Friday, just before the heat wave hit.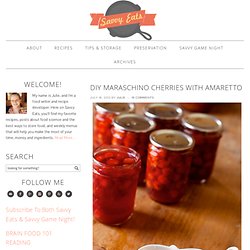 The farm's newsletter said that blueberries would be ready last Wednesday, so we figured that there would be plenty of ripe, plump berries for us to brush into our buckets. I should have thought to call ahead, but instead we drove for 35 minutes only to find that….the blueberries weren't ready yet. Cue the sad trombones. But we had driven all that way, with our containers packed into the back seat. Magic Shell recipe on Food52. Author Notes: This is barely a recipe, but it really is magic.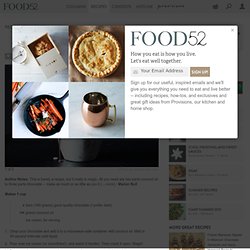 All you need are two parts coconut oil to three parts chocolate -- make as much or as little as you like. Pour it over your favorite ice cream, wait a few seconds, and there you have it: magic shell, made at home. (less)Author Notes: This is barely a recipe, but it really is magic. Salvatore Cuomo: Gnocchi ( How To... ) 1 Kg Potatoes 300gr Flour 1 Egg Pinch of Salt Directions: 01 - The first thing to do is to boil the potatoes in their skins. 02 - After about 25 Minutes turn the heat off and tip them into a colander to drain. 03 - While still hot peel off the skin.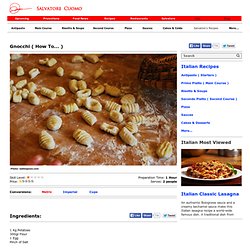 15 Molten Lava Cakes You Could Fall Hard For. 4 Ways to Cook Chicken Thighs. Edit Article BakingBroilingSlow CookingFrying Edited by LIVLUVHORSES, Maluniu, Lspricigo, Amori and 6 others Chicken thighs are flavorful, moist and are interestingly-textured, especially when the skin is well crisped.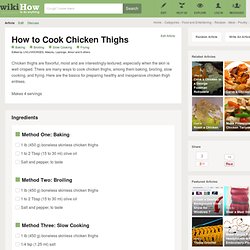 There are many ways to cook chicken thighs, among them baking, broiling, slow cooking, and frying. Easy 20 minute home-made, yeast free pizza. : foodhacks. Shooter Sandwich (x-post /r/foodporn) : foodhacks. Perfect Sandwich Bread Recipe - Food.com - 303107. Beancurd Sticks Broiled with Soy Sauce, Ginger, and Honey. Food Network. A Two Bite Breakfast: Bacon & Eggs in Toast Cups.
* Updated post from archive: Originally posted March 29, 2009 If you where to ask me what is my favorite meal of the day without a thought my response would be breakfast!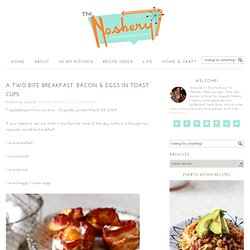 I love breakfast! I love brunch! I love bacon! I love breggs! Black Beans and Rice Recipe. Fiery Mushroom Pizza with Jalapenos and Hot SauceThis Is My Inspiration | This Is My Inspiration. The last few times I've made a pizza I've just used shop bought flat breads or even large pitta breads as the base, but I went back to basics yesterday and made my own wholewheat dough and whipped up a hot, hot, hot pizza for Sunday movie night…. we watched The Big Wedding, which was pretty good… and the pizza was fabulous!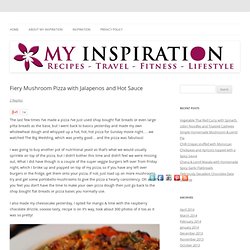 I was going to buy another pot of nutritional yeast as that's what we would usually sprinkle on top of the pizza, but I didn't bother this time and didn't feel we were missing out. What I did have though is a couple of the super veggie burgers left over from Friday night, which I broke up and popped on top of my pizza, so if you have any left over burgers in the fridge, get them onto your pizza, if not, just load up on more mushrooms, try and get some portobello mushrooms to give the pizza a hearty consistency.
Oh and if you feel you don't have the time to make your own pizza dough then just go back to the shop bought flat breads or pizza bases you normally use. How To Make A Biltong Box For Drying Biltong. If you're planning to make your own biltong or droëwors, you're going to need a way to dry the meat.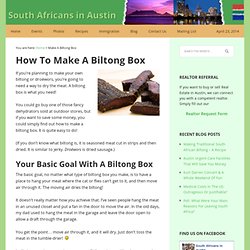 A biltong box is what you need! You could go buy one of those fancy dehydrators sold at outdoor stores, but if you want to save some money, you could simply find out how to make a biltong box. It is quite easy to do! (If you don't know what biltong is, it is seasoned meat cut in strips and then dried. How to Make Mofongo: 8 Steps. Edit Article Edited by Juan, Carolyn Barratt, Michaela, BR and 6 others Mofongo (pronounced moh-FON-goh) is a very typical Caribbean dish in which the main ingredient is green plantains.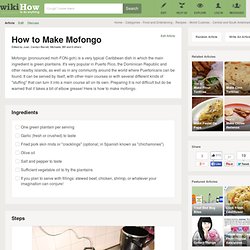 Do-It-Yourself Dragon's Beard Candy. For a basic Dragon's Beard you need, Ingredients (Syrup):- * 1000g / 2.2lb of sugar * 100g / 3.5oz of light corn syrup or maltose * 1 tsp of white vinegar (careful here, too much or too little might mess up the final product) * 500ml or 2 cups of water Ingredients (Dusting):- * 3 to 4 cups of corn starch or rice flour. 31 Fun Treats To Make In A Muffin Tin. Shakshuka. There are a lot of reasons to make shakshuka, an Israeli Tunisian dish of eggs poached in a spicy tomato sauce: It sounds like the name of a comic book hero. Or some kind of fierce, long-forgotten martial art. Or perhaps something that said comic book hero would yell as they practiced this elaborate martial art, mid-leap with their fist in the air.
Or you could make it because when I talked about making eggs in tomato sauce a while back a large handful of comments were along the lines of "oh, this sounds like shakshuka" and "I think you would love shakshuka" and "you really should make shakshuka" and you may have shrugged and forgotten about it until you finally had it at a café one day and whoa it turns out you really would like shakshuka! How To Make Turkey Stock, The Most Important Thanksgiving Ingredient.
Springy, fluffy marshmallows. The first time I made marshmallows, well, I don't think saying "it was a mess" adequately describes it. Oh, the marshmallows were successful; they even looked and tasted like marshmallows, but yours truly? I ended up in a tangled web of marshmallow strings. It all went south when I couldn't resist the urge to scrape down the paddle and bowl (anyone else an obsessive bowl scraper? Blue Kale Road: Homemade Sriracha. A couple of years ago I got hooked on homemade sriracha. I had discovered a recipe on Food52 and made it immediately. Upon tasting the homemade sauce, my family and I declared it superior to the store-bought sriracha which we immediately tossed out in favor of our new favorite. This experience opened my eyes to the world of homemade condiments, and sriracha became my gateway condiment, if you will. Here at Blue Kale Road, I love telling you about new creations as well as family recipes, and sriracha has become a family recipe.
Homemade Nutella Recipe. Make Your Own Peanut Butter. Vanilla Extract Recipe. Perfect Sandwich Bread Recipe - Healthy.Food.com - 303107. Goofy Bread Rolls Recipe - Food.com - 419021. Avocado Fries + Lemon Garlic Aioli. Homemade pop tarts. Burger or Hot Dog Buns Recipe. Best Party Sangria Recipe, Recipe for Party Sangria, How to Make Sangria for a Party. Tomato-Serrano Salsa Recipe. Savory/Spicy Popcorn Recipes. 30 Foods You'll Never Have To Buy Again. Recipe: No-Knead Bread. Making No-Knead Bread. One Direction's Boy Bandaid. Liquid Marijuana drink recipe. Ethereally smooth hummus. Was scrolling through FB and this cake popped up... anyone hungry? : gaybros. NARUTO ICHIRAKU RAMEN - Feast of Fiction S2 Ep10. Ham Dogger: Everything Else. Chocolate Chirpie Chip Cookies. Mealworm Fried Rice. Healthy fruit punch with highest antioxidant count ever (tastes just like fruit punch we drank as kids!) : recipes.
Authentic German Pretzels, no seriously, these are the best pretzels you'll ever taste. Recipe in comments. : recipes. Narnia - Turkish Delight ft Sorted Food! Feast of Fiction Ep. 19. Hand-Pulled Cotton Candy: Dragon's Beard, Pashmak, Pishmanie. Dave Arnold's How-to Video. Do-It-Yourself Dragon's Beard Candy. Pizzacraft PC0304 Grilled Pizza Cones, 6-Piece, Set of 2: Patio, Lawn & Garden.
Vegetable and Tofu Pad Thai. 34 Insanely Simple Two-Ingredient Recipes. Jijon.png (618×359) Homemade Beef Jerky Recipe : Emeril Lagasse. Chocolate Chip Peanut Butter Banana Bread. Banana Chocolate Chip Loaf Recipe - Food.com - 397754. Watermelon Ice Pops. Single Man Food. [Request] Easy bachelor recipes that I can make at the beginning of the week and will last throughout. : recipes.
Gordon Ramsay's Scrambled Eggs. Recipe search by ingredients you have at home. Crispy Onion Rings Recipe - How to Make Crispy Onion Rings. Caramel Potatoes » Cinnamon Roll Cake. Absolutely the Very Best Barbequed Pork Ribs Ever | High Road Artist. Retail_beef_cuts1.jpg (875×1125) My Fridge Food - Recipes you already have in your Fridge.
Onigiri - Fruits Basket, Spirited Away, Pokemon, Feast of Fiction Ep. 17. BBQ Ribs Recipes, Barbecue Recipes, Grilling Recipes, Baby Back Ribs, Barbecue Spare Ribs, Outdoor Cooking, Rating Barbecue Grills and Smokers. 22 Burger Recipes For National Burger Month. Flavoured popcorn. 23 Smoothies That Aid in Weight Loss … Harry Potter's Flaming Butterbeer. Pokemon Poffins, Feast of Fiction Ep. 12. Punchfork — The best new recipes from top food sites. Copycat Restaurant Recipes. Copykatrecipes's Channel. McDonald's Frozen Strawberry Lemonade. How To Cook Perfect Rice Without A Rice Cooker (and store it for months) Make Extra-Fluffy Mashed Potatoes by Adding a Pinch of Baking Powder.
This Is How You Should Cook Your Turkey Next Thursday (Or You Could Waste Hours of Your Life) Cook Pasta with Cold Water and a Frying Pan for a Quick Dinner and an Easy Sauce.
---