USA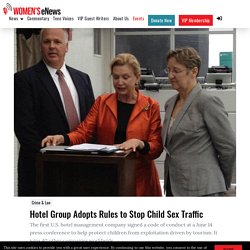 Hotel Group Adopts Rules to Stop Child Sex Traffic
The first U.S. hotel management company signed a code of conduct at a June 14 press conference to help protect children from exploitation driven by tourism. It joins 40 other companies worldwide. Congresswoman Carolyn Maloney speaks at the June 14 press conference. Credit: Courtesy of ECPAT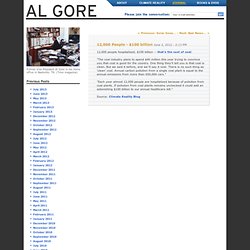 12,000 people hospitalized; $100 billion -- ­ that's the cost of coal : "The coal industry plans to spend $40 million this year trying to convince you that coal is good for the country. One thing they'll tell you is that coal is clean. But we said it before, and we¹ll say it now: There is no such thing as 'clean' coal. Annual carbon pollution from a single coal plant is equal to the annual emissions from more than 650,000 cars."
12,000 People - $100 billion
Brian Lewis's career in the US navy ground to a halt after he was raped on board ship by a superior. Navy commanders made clear they regarded Lewis as the problem for demanding his attacker be brought to justice, and he was discharged as mentally unfit. Olga Ferrer was in the air force when she was raped in a shower by an American serviceman during the Gulf war against Iraq two decades ago. Again, the military turned against the victim. "The security police told me: just go back to your tent and go back to work tomorrow.
Sexual assault in the military: Congress pressures Pentagon to fix the system | World news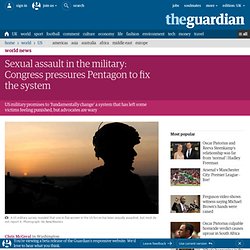 Human Rights Watch: US: Sexual Violence, Harassment of Immigrant Farmworkers
occupyoakland
p.ost
#ows @sfpd in front of Wells Fargo #occupysf #occupywallstreet | Flickr : partage de photos !
Russians Refuse to Shake Obama's Hand
AZ resists ALEC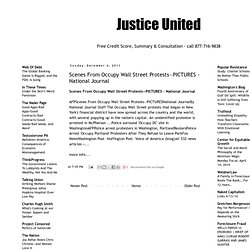 JUSTICE UNITED: Scenes From Occupy Wall Street Protests—PICTURES - National Journal
Scenes From Occupy Wall Street Protests—PICTURES - National Journal AFPScenes From Occupy Wall Street Protests—PICTURESNational JournalBy National Journal Staff The Occupy Wall Street protests that began in New York's financial district have now spread across the country and the world, with several popping up in the nation's capital. An unidentified protestor is arrested in McPherson ...Police surround 'Occupy DC' site in WashingtonAFPPolice arrest protesters in Washington, PortlandReutersPolice Arrest 'Occupy Portland' Protesters After They Refuse to Leave ParkFox NewsWashington Post -Huffington Post -Voice of America (blog)all 532 news articles »... more info...
IMG_1794 | Flickr : partage de photos !
Update: 10/14/11 @ 9:50 a.m. : Despite the threat that the "Occupy Wall Street" camp in Zuccotti Park would be removed, the "cleanup" was called off Friday morning by New York Mayor Michael Bloomberg. The news came as a victory for activists determined to stay and continue protesting. Read More: Zuccotti Park cleanup canceled, drawing cheers from Occupy Wall Street protesters
After Zuccotti Park Cleanup Canceled, #OcccupyWallstreet Spreads Throughout America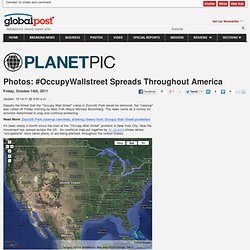 A few folks pointed out Bruce Iglauer's opinion piece in the Chicago Tribune , urging support for PROTECT IP. It's a little odd, because the piece never mentions SOPA at all, and applauds the "introduction" of PROTECT IP (PIPA), despite that happening many months ago. Either way, while I'm sure that Iglauer, an old school indie label founder and operator, means well, his arguments make almost no sense.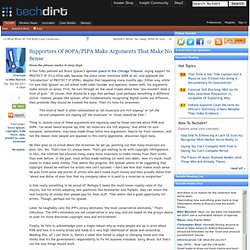 Supporters Of SOPA/PIPA Make Arguments That Make No Sense
#ows @sfpd guarding Wells Fargo #occupysf #occupywallstreet | Flickr : partage de photos !
More cherry pickers shots #occupydc on Twitpic
Anti-Israel Groups Attempt to Co-Opt Occupy Wall Street Message
Posters and Signs for the Occupations
Photos from the Occupations
Occupy protesters want Mercedes driver prosecuted - Care2 News Network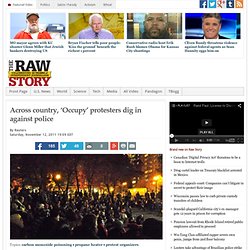 Across country, 'Occupy' protesters dig in against police
By Reuters Saturday, November 12, 2011 19:09 EDT LOS ANGELES (Reuters) – Tensions were rising at anti-Wall Street protests in three western cities on Friday as demonstrators in Portland, Salt Lake City and Oakland defied orders by police to dismantle their camps. In Portland, police said they had received reports that protesters were digging a reinforced hole and fashioning makeshift weapons out of wood and nails after Mayor Sam Adams gave them until midnight on Saturday to clear out of two downtown parks. Police said they believed Occupy Portland organizers had also put out a call for reinforcements from Oakland, Seattle and San Francisco as they prepared for a confrontation.
DAVIS, Calif. -- Police at the University of California, Davis have dismantled an Occupy encampment on campus and arrested 10 protesters. UC Davis officials say eight men and two women were taken into custody Friday afternoon. Nine of them were students.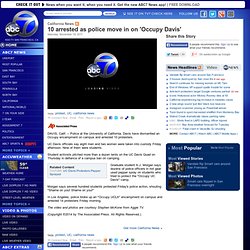 10 arrested as police move in on 'Occupy Davis' near UC campus