The Illegal Iraq War
Hans Blix: "Cheney threatened to discredit me" (Closed Captioned) Fox: Administration Has Settled on 3,000 Troops in Iraq Past 2011 Withdrawal Date. Fox News has an ignorant story today on their website.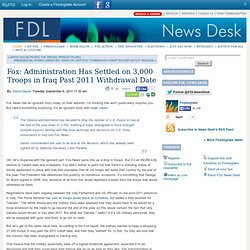 I'm thinking this won't particularly surprise you. But here's something surprising: it's an ignorant story with news value! The Obama administration has decided to drop the number of U.S. troops in Iraq at the end of the year down to 3,000, marking a major downgrade in force strength, multiple sources familiar with the inner workings and decisions on U.S. troop movements in Iraq told Fox News.Senior commanders are said to be livid at the decision, which has already been signed off by Defense Secretary Leon Panetta. OK, let's dispense with the ignorant part.
Joseph C. Wilson. Joseph Charles Wilson IV (born November 6, 1949) is a former United States diplomat best known for his 2002 trip to Niger to investigate allegations that Saddam Hussein was attempting to purchase yellowcake uranium; his New York Times op-ed piece, "What I Didn't Find in Africa";[1] and the subsequent "outing" of his wife Valerie Plame as a CIA agent.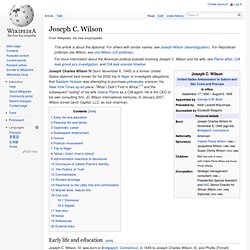 He is the CEO of his own consulting firm, JC Wilson International Ventures. In January 2007, Wilson joined Jarch Capital, LLC, as vice chairman. Early life and education[edit] In 1968, Wilson matriculated at the University of California, Santa Barbara, majoring, he once joked, in "history, volleyball, and surfing" and maintaining a "C" average (The Politics of Truth 32).
UK probe: Search for truth or PR stunt? - Inside Story. An inquiry into the death of an Iraqi civilian who died while in British custody in Iraq, has found that he was the victim of "unjustified and brutal violence".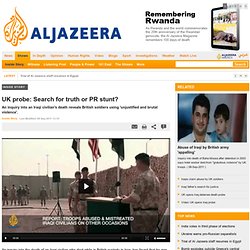 Baha Mousa died in British army custody in Basra in 2003. He sustained 93 injuries. Sir William Gage, the chairman of the inquiry, condemned "corporate failure" at the Ministry of Defence in reference to the use of banned interrogation methods in Iraq. This is the biggest British inquiry into professional standards in the British Army since the Bloody Sunday investigation into the killings of unarmed Catholics in Northern Ireland 30 years ago. The defence ministry says it will carefully consider any recommendations from the inquiry. Donald Rumsfeld Unknown Unknowns ! Valerie Plame. Valerie Elise Plame Wilson (born August 13, 1963), known as Valerie Plame, Valerie E.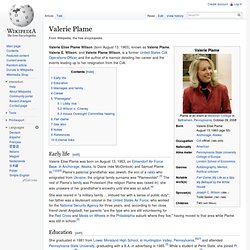 Wilson, and Valerie Plame Wilson, is a former United States CIA Operations Officer and the author of a memoir detailing her career and the events leading up to her resignation from the CIA. Early life[edit] Valerie Elise Plame was born on August 13, 1963, on Elmendorf Air Force Base, in Anchorage, Alaska, to Diane (née McClintock) and Samuel Plame III.[1][2][3] Plame's paternal grandfather was Jewish, the son of a rabbi who emigrated from Ukraine; the original family surname was "Plamevotski".[4] The rest of Plame's family was Protestant (the religion Plame was raised in); she was unaware of her grandfather's ancestry until she was an adult.[4]
---