SUPER DUPER! THE PACS and LOBBYIST
Rachel Maddow exposes "The Parasite" FreedomWorks. FreedomWorks is a conservative and libertarian non-profit organization based in Washington D.C., United States.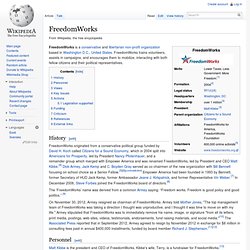 FreedomWorks trains volunteers, assists in campaigns, and encourages them to mobilize, interacting with both fellow citizens and their political representatives. History[edit] FreedomWorks originated from a conservative political group funded by David H. The NRA Board of Directors: time for a little sunlight. Red money, blue money: The making of the 2012 campaign - War Room. The hidden infrastructure of the 2012 campaign has already been built.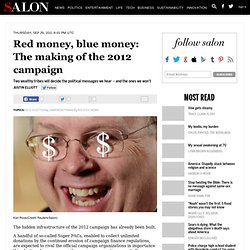 A handful of so-called Super PACs, enabled to collect unlimited donations by the continued erosion of campaign finance regulations, are expected to rival the official campaign organizations in importance this election. In many cases, these groups are acting essentially as outside arms of the campaigns. These are America's best-funded political factions, their war chests filled by some of the richest men (and almost all are men) in the country. More than 80 percent of giving to Super PACs so far has come from just 58 donors, according to the Center for Responsive Politics analysis of the latest data, which covers the first half of 2011.
The Republican groups have raised $17.6 million and the Democratic groups $7.6 million. Courthouse News Service. Tax-exempt status of Karl Rove's Crossroads challenged. Leading campaign finance reform groups have sent a letter to the IRS challenging the tax-exempt status of Karl Rove's Crossroads GPS and three other groups: [S]ection 501(c)(4) organizations are required to primarily engage in the promotion of social welfare in order to obtain tax exempt status.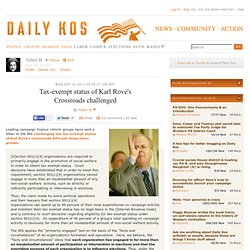 Court decisions have established that in order to meet this requirement, section 501(c)(4) organizations cannot engage in more than an insubstantial amount of any non-social welfare activity, such as directly or indirectly participating or intervening in elections. California Health Insurers Hire Tobacco Lobbyists, Pay Top Lawmaker Tens Of Thousands In Direct Payments. By Lee Fang on September 8, 2011 at 12:42 pm "California Health Insurers Hire Tobacco Lobbyists, Pay Top Lawmaker Tens Of Thousands In Direct Payments" The California Health Plans coalition, representing the health insurance industry, led over 100 opponents of the rate review bill Last month, a popular reform to grant the California Insurance Commission the power to review and regulate proposed insurance rate hikes died a quick death in the state Senate.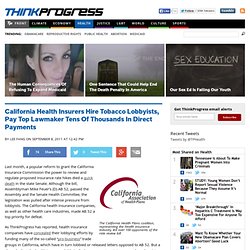 Although the bill, Assemblyman Mike Feuer's (D) AB 52, passed the Assembly and the Senate Health Committee, the legislation was pulled after intense pressure from lobbyists. Eric Cantor Staffer Creating Leadership Super PAC. WASHINGTON -- The deputy chief of staff to House Majority Leader Eric Cantor (R-Va.) is leaving the congressman's office to start a leadership super PAC designed to help retain and expand the Republican majority in the House and enhance Cantor's standing within his caucus.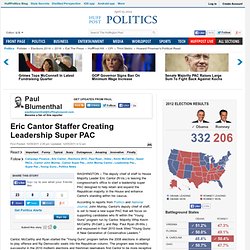 According to reports from Politico and National Journal, John Murray, Cantor's deputy chief of staff, is set to head a new super PAC that will focus on supporting candidates who fit within the "Young Guns" program run by Cantor, Majority Whip Kevin McCarthy (R-Calif.), and Rep. Paul Ryan (R-Wis.) and espoused in their 2010 book titled "Young Guns: A New Generation of Conservative Leaders.
" Cantor, McCarthy and Ryan started the "Young Guns" program before the 2008 elections in attempt to play offense and flip Democratic seats into the Republican column. The program was incredibly successful in the 2010 midterm elections and freshman lawmakers find Cantor to be more receptive than other members of GOP leadership. Rachel Maddow | Karl Rove SuperPAC Video. With the 2012 elections looming, the media has dedicated much of its time these past few weeks to figuring out the ultimate Republican field to challenge President Obama.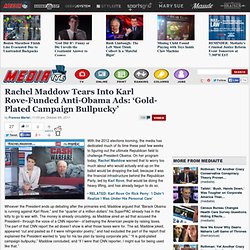 On her program today, Rachel Maddow warned that to worry too much about who would actually end up on the ballot would be dropping the ball, because it was the financial infrastructure behind the Republican Party, led by Karl Rove, that would be doing the heavy lifting, and has already begun to do so. RELATED: Karl Rove On Rick Perry: 'I Didn't Realize I Was Under His Personal Care' Whoever the President ends up debating after the primaries end, Maddow argued that "Barack Obama is running against Karl Rove," and the "quarter of a million dollars" his SuperPAC already has in the kitty to go to war with. The money is already circulating, as Maddow aired an ad that accused the President– through the voice of a CNN reporter– of betraying the American people by raising taxes. Coming Soon: An Orrin Hatch Super PAC? Israel, Palestine spend millions on lobbying, PR campaigns. As the United Nations considers the Palestinian referendum for statehood, possibly as early as Friday, both parties are vying for an approval from the UN Security Council and for a U.S. vote.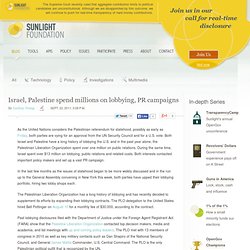 Both Israel and Palestine have a long history of lobbying the U.S. and in the past year alone, the Palestinian Liberation Organization spent over one million on public relations. During the same time, Israel spent over $13 million on lobbying, public relations and related costs. Both interests contacted important policy makers and set up a vast PR campaign. Calif. Embezzlement Case Might Touch Many Campaigns. By Amanda Becker and Alex Knott Roll Call Staff Sept. 6, 2011, 4:55 p.m.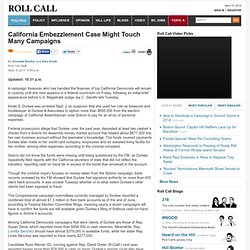 Updated: 10:31 p.m. A campaign treasurer who has handled the finances of top California Democrats will remain in custody until she next appears in a federal courtroom on Friday, following an initial brief appearance before U.S. Magistrate Judge Jay C. BP back from political exile, giving big in 2012 - Dave Levinthal. BP has clawed its way back from political purgatory, finding itself right where it was before the Deepwater Horizon disaster: contributing significant cash to candidates happy to take it.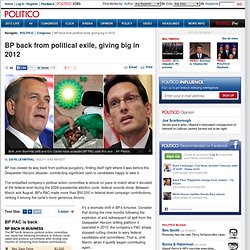 The embattled company's political action committee is almost on pace to match what it donated at the federal level during the 2008 presidential election cycle, federal records show. Between March and August, BP's PAC made more than $50,000 in federal-level campaign contributions, ranking it among the cycle's more generous donors. Continue Reading BP PAC is back. Would a PAC By Any Other Name Sound As Sweet? Thousands of political action committee committees thrive in the federal political landscape, and new ones are popping up every week.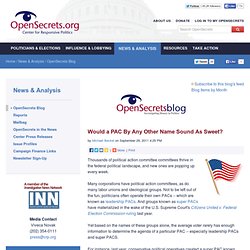 Many corporations have political action committees, as do many labor unions and ideological groups. Not to be left out of the fun, politicians often operate their own PACs -- which are known as leadership PACs. And groups known as super PACs have materialized in the wake of the U.S. Supreme Court's Citizens United v. Federal Election Commission ruling last year. Citizens United affiliate opens checkbook, again, for GOP candidates in Virginia - Virginia Politics. Posted at 03:01 PM ET, 09/29/2011 Sep 29, 2011 07:01 PM EDT TheWashingtonPost A political organization affiliated with the conservative advocacy group Citizens United has poured another $18,000 into state House and Senate races in Virginia , hoping Republican wins will send a message to President Obama that Virginia won't go his way in 2012.
Eric Cantor Super PACs Up, Sarah Palin Drops Out and More in Capital Eye Opener: Oct. 7. Your daily dose of news and tidbits from the world of money in politics: CANTOR SUPER PAC: House Majority Leader Eric Cantor (R-Va.) will join the super PAC frenzy. The new group will aim to increase Cantor's national profile and name recognition -- a possible move to position him as the slot of vice president for one of the Republican presidential hopefuls, the National Journal reported. The PAC will be run by Cantor's out-going chief of staff, John Murray, who will be leaving the staff imminently to start the group.
Cantor has proven to be a very effective fund-raiser, both for his own campaign committee and his leadership PAC, which is called Every Republican is Crucial PAC. ERIC PAC was one of the biggest such PACs in terms of money raised. Donor to Lindsey Graham Indicted for Illegal Campaign Contributions, Fraud. A South Carolina pharmaceutical executive and major contributor to Sen. Lindsey Graham (R-S.C.) has been indicted for making at least $31,000 in illegal donations to the senator and embezzling at least $3.6 million of federal grant money, which Graham helped to earmark, The Post and Courierreports. Jian-Yun "John" Dong, president and chief executive officer of South Carolina-based pharmaceutical company GenPhar, allegedly solicited a German national and GenPhar stockholder, who wired $36,000 over from a Frankfurt bank in 2007.
Dong then donated most of those funds through conduits -- such as his estranged wife Dahner Wang, daughter Deanna and GenPhar employees -- to Graham and his leadership PAC. The alleged illegal activity began after the couple contributed the legal maximums to the Graham during his 2008 re-election campaign. The couple had promised to raise $25,000 for the senator, a goal for which Dong relied on the German stockholder to meet. Americans for Prosperity.
Americans for Prosperity (AFP) is a group fronting special interests founded in 2004 by oil billionaire David Koch and Richard Fink (a member of the board of directors of Koch Industries). AFP has been accused of funding astroturf operations but also has been fueling the "Tea Party" efforts. [1] AFP's messages are in sync with those of other groups funded by the Koch Family Foundations and the Kochs' other special interest groups that work against progressive or Democratic initiatives and protections for workers and the environment. Accordingly, AFP opposes labor unions, health care reform, stimulus spending, and cap-and-trade legislation, which is aimed at making industries pay for the air pollution that they create. AFP was also involved in the attacks on Obama's "green jobs" czar, Van Jones, and has crusaded against international climate talks. Super Committee: Under the (Foreign) Influence?
By BEN FREEMAN, LYDIA DENNETT, and DAHNA BLACK Every year foreign governments spend hundreds of millions of dollars hiring lobbying and public relations firms to increase their influence in the United States. Lobbyists working on behalf of these foreign governments (foreign lobbyists) contact policymakers thousands of times annually, and the members of the "Super Committee" are no exception. Trade deals were cash cow for K Street. Lobbying Spending Database - NASCAR, 2011.
Elite Donors Do Double Duty: Presidential Super PACs Attract Wealthy Donors Who Have Maxed Out to Candidates. Outside groups spend $1.65 million on House races in Nevada, New York. Moral Majority. The GOP's Genius Plan to Beat Obama in 2012. FreedomWorks. Profiles of Right Wing Organizations.
---