READ A GOOD BOOK LATELY!
M. K. Theodoratus. A Review of Griftopia by Matt Taibbi. Amazon. American Dreamers — By Michael Kazin — Book Review. American Fascists: Book Review « Life Without a Net. To a lot of atheists, Chris Hedges is a relatively well known Christian who is good at getting smacked around in debates with the likes of Sam Harris and Christopher Hitchens.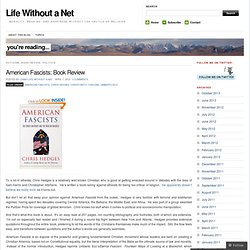 He's written a book railing against atheists for being too critical of religion. He apparently doesn't believe we really exist, as it turns out. Books available online by award winning author Thom Hartmann. Thom Hartmann Radio Program Live : Mon-Fri3pm - 6pm EasternLive radio | Live TV | Podcast Syndicated by Dial-Global, Pacifica, and simulcast on Free Speech TV Network on Dish Network and DirectTV, and on radio stations, American Forces Radio, and Sirius/XM.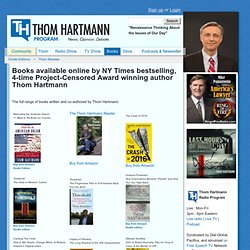 Live in the US, Africa, Europe and across North America - more people listen to or watch the TH program than any other progressive talk show in the world. The Big PictureLive Mon-Fri in over 50m American homes, and more than 500m homes in 100+ countries.RT : 7pm & 9pm EasternFS TV : 7pm EasternPodcast | TV Highlights Thom's Free IPhone App. The Shock Doctrine. In THE SHOCK DOCTRINE, Naomi Klein explodes the myth that the global free market triumphed democratically.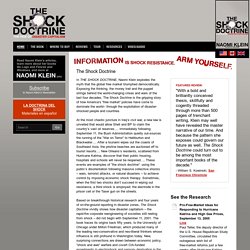 Exposing the thinking, the money trail and the puppet strings behind the world-changing crises and wars of the last four decades, The Shock Doctrine is the gripping story of how America's "free market" policies have come to dominate the world-- through the exploitation of disaster-shocked people and countries. At the most chaotic juncture in Iraq's civil war, a new law is unveiled that would allow Shell and BP to claim the country's vast oil reserves…. Immediately following September 11, the Bush Administration quietly out-sources the running of the "War on Terror" to Halliburton and Blackwater…. After a tsunami wipes out the coasts of Southeast Asia, the pristine beaches are auctioned off to tourist resorts.... New Orleans's residents, scattered from Hurricane Katrina, discover that their public housing, hospitals and schools will never be reopened….
Friedrich Nietzsche, Thus Spoke Zarathustra. HomeEBOOK TEXTSSearch TextsLifeFRIEDRICH NIETZSCHE QUOTESIKONSAbout You are here: Friedrich Nietzsche, Thus Spoke Zarathustra: a Book for Everyone and No-one.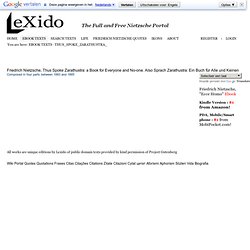 Also Sprach Zarathustra: Ein Buch für Alle und Keinen Composed in four parts between 1883 and 1885 Friedrich Nietzsche, "Ecce Homo" Ebook. Amazon. School 'Reform': A Failing Grade by Diane Ravitch. Class Warfare: Inside the Fight to Fix America's Schools by Steven Brill Simon and Schuster, 478 pp., $28.00.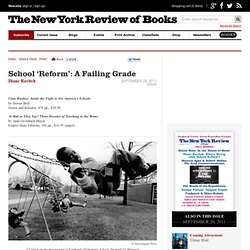 ---